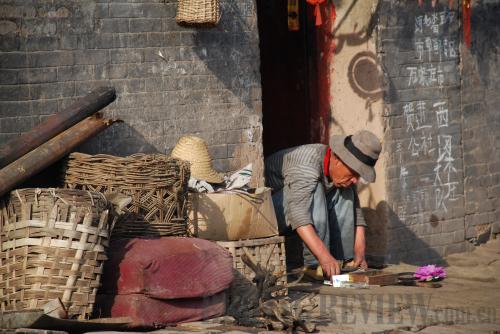 BASKING: Pingyao back street resident enjoys the sunshine while carrying out daily chores The writer is an Australian living in Beijing (DAVID SPARKES)
As soon as I stepped into the main street of the old city in Pingyao, Shanxi Province, I had a feeling I would not like the place. In fact, I basically made my mind up on the spot that I disliked it. It looked overly touristy, clichéd and lacking in the authenticity I was hoping for. My escape from Beijing's expat scene was looking shaky.
How wrong I was!
After checking in to my hotel, which I begrudgingly admitted was a lovely old-fashioned courtyard-house, I picked up my camera and headed out in a stubborn huff to do battle with throngs of tourists. The main street was lined with shops selling every souvenir imaginable. Noise from vendors, tourists and stereos conspired to feed my cynicism.
Just as I was about ready to pack it in, I made an impromptu decision to head east down a random street.
It was an unassuming alley. Nothing remarkable, just a hutong with old-school paving and Qing Dynasty (1644-1911) urban architecture.
But suddenly, I became aware that the architecture, while reasonably intact, had not been clichéd-up for tourism like it had down the main street. I noticed elderly Chinese sitting pensively in front of their homes, watching the world pass by. I realized that there was hardly anybody in this area, and there was almost no noise at all. Suddenly, I decided I loved Pingyao.
I had discovered the secret to this town: Hit the back streets!
Pingyao is famous throughout China for being possibly the best-preserved example of Qing Dynasty city-design. Different historical works put the city's founding at anywhere between the 3rd century B.C. and the 14th century. Either way, the city was expanded during the Ming Dynasty (1368-1644), thanks largely to its position on the Xi'an-Beijing trade route. The city became truly important during the Qing Dynasty, which saw the establishment of China's first banks. Today Pingyao is a UNESCO World Heritage site.
The old city has been exploited for its tourism value—and so it should be. But as I discovered, this is more than just a Disney-style theme park of Chinese history. Beyond that facade of commercialization, there lies within the old city walls a community that goes about daily life in the most authentic setting imaginable. Sprawling alleyways—rustic and lined with Qing-style housing that one expects to be knocked down for development in this day and age.
I spent hours simply wandering these back streets, looking for photo opportunities and inhaling the unmistakable scent of burning coal. The old buildings were mostly a pale, earthen color, with bricks that were often stacked up with barely any mortar left to separate them. Old wooden doors with rounded tops and rotting bottoms rested half open and decorative stonework adorned seemingly random buildings.
It was a sunny day and the older inhabitants took advantage of the warmth by perching themselves in the glare. They looked as much a part of the city's heritage as the bricks and doorways.
I bought a ticket and headed up the stairs of the city wall. (Yes, even I am not entirely above the whims of tourism). A cluster of tourists listening to the megaphone of a tour guide greeted me at the top of the wall, so I promptly left that section and began walking along the wall alone. No one else seemed to be coming alone, and I found myself walking along the top of the wall in complete solitude. I covered about a quarter of the wall's circumference in 30 minutes, without passing another soul—I couldn't believe it!
The wall stands taller than most of the city's buildings and I took in the wonderful vistas of the old city as I walked. Every now and then I spied a local doing something interesting and snuck in a quick photo. One man was herding his goats outside the wall, one lady was carrying a handful of leeks down an alley, and a couple of workers were laying tiles on a rooftop. I had a bird's eye view of life in the age-old hutongs.
It has to be said, I also checked out some of the recognized tourist sights and a few of those were quite impressive. The Confucian Temple, which houses the old learning academy, is an excellent glimpse of scholarly life in imperial China. The Rishengchang Bank and other buildings along the same street show off the charms of Qing architecture.
But for me, none of this matched the experience of simply meandering around Pingyao's unheralded back streets.
The writer is an Australian living in Beijing