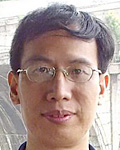 The 10 years since the inauguration of the Forum on China-Africa Cooperation (FOCAC) have witnessed the most rapid growth in the history of China-Africa relations. China unveiled measures to strengthen cooperation at every FOCAC ministerial conference and these measures were effectively implemented.
Over the past decade, political exchanges between China and Africa have increased, as evidenced by frequent visits of government leaders. Economic ties have made headway as well. Two-way trade hit $106.8 billion in 2008, meeting the goal of raising China-Africa trade volume to $100 billion ahead of schedule. China became Africa's biggest trade partner in 2009 and by the end of that year, China's direct investment in Africa had exceeded $8 billion.
TECHNOLOGICAL ASSISTANCE: A Chinese worker helps install equipment for geothermal power generation in Kenya's Rift Valley Province on August 29 (ZHAO YINGQUAN)
Nongovernmental and cultural exchanges have also gained momentum. For instance, China has set up more than 20 Confucius Institutes—educational institutions devoted to spreading knowledge about Chinese language and culture in foreign countries—in Africa.
The FOCAC has promoted China-Africa joint development, said a September report issued by the Shanghai Institutes for International Studies (SIIS). While helping project China's influence in Africa and beyond, it has boosted Africa's international profile and brought China-Africa relations onto a larger stage, said the report, titled "Toward a New Decade: Research on the Sustainable Development of the FOCAC."
Equal partners
Western critics argue China is only seeking a presence in Africa to gain access to resources. Some of them even go so far as to criticize the country for pursuing "neo-colonialism" on the continent. Some in China, however, claim the country is barely being rewarded for its assistance to Africa. Both of these views are biased.
Equality and win-win outcomes are the hallmarks of China-Africa cooperation and the main reasons China-Africa relations have maintained vigor and vitality through the years. China and Africa have established an equal political relationship and supported each other in international affairs. This is conducive to Africa's efforts to diversify its foreign relations.
Moreover, China has presented opportunities for African development. Through its work with China, Africa has gained tangible benefits, such as canceled debts, market access, concessional loans, infrastructure projects and personnel training. From 2002 to 2008, Africa's economy grew by an annual average of 6 percent, 2 percent of which was attributed to Chinese assistance.
Likewise, strengthened cooperation with Africa serves China's interests, as Africa is a premium destination for Chinese investors. The establishment of the China-Africa Cooperation Fund, one of the eight measures Chinese President Hu Jintao announced at the FOCAC Beijing Summit in November 2006, has facilitated Chinese companies' investments in Africa. African countries also support China on issues concerning China's core interests, such as Taiwan, Tibet and Xinjiang.
Since its founding, the FOCAC has held four ministerial conferences. At the first ministerial conference in October 2000, China announced it would cancel the debts, worth 10 billion yuan ($1.5 billion), owed by heavily indebted African countries. At the second ministerial conference in December 2003, human resources development was added to the FOCAC agenda, and China promised to train 10,000 professionals for African countries. At the third ministerial conference in Beijing in November 2006, China proposed eight measures designed to promote pragmatic cooperation. At the fourth ministerial conference in November 2009, China announced eight more measures, such as special loans for small and medium-sized African businesses, a China-Africa science and technology partnership and a China-Africa joint research and exchange program.