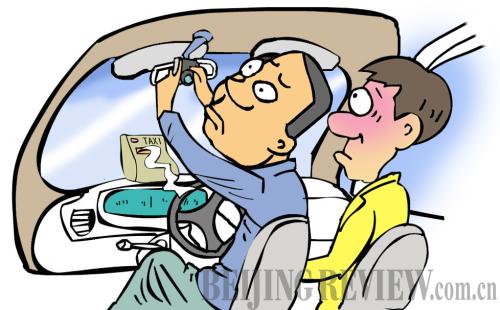 (LI SHIGONG)
Wuhu City in Anhui Province initiated a program to install GPS video surveillance and alarm systems in taxicabs across the city in August. It is projected that all of the city's 3,024 cabs will be equipped with security cameras by mid-October. Wuhu is not alone in adopting such a system. Several other Chinese cities, including Chongqing, Xi'an and Nanchang, have engaged in a similar campaign.
With such a monitoring system in place, when the cabdriver turns on the meter, a small camera above the passenger seat will begin to record what happens in the cab and will store it in the system.
Many netizens have debated whether such a camera violates passengers' privacy.
Supporters of the cameras say the space inside a cab is a public venue where riders and drivers should act properly. They believe cameras could better protect the rights of passengers and riders.
Opponents argue that, unlike buses, cabs are private space rented by individuals for a certain period of time. If the recording is involuntary, it violates passengers' privacy. According to a survey conducted by The Beijing News, 77.5 percent netizens think it is necessary to install a video surveillance system in a cab while 22.5 percent deem it unnecessary.
Safety first
Jiang Debin (Procuratorial Daily): Is safety or privacy more important? I believe that in a private space, privacy is more important, as privacy violations can undermine a person's sense of safety. In public places, however, personal safety is of the utmost importance.
As cabs are part of the public transportation system, the space inside a cab is still a public place. And since cameras can be installed in buses, they can be installed in cabs. Because of how they work, cab drivers are easier targets for crimes, compared to drivers of other forms of public transportation.
Cameras can record the physical features of a criminal and videos can easily be used by police as evidence. Cameras are an effective deterrent for potential criminals.
In the information era, the scope of individual privacy, which is still protected by laws, is actually shrinking. There are more cameras in public places. Moreover, most people own cell phones with built-in cameras or digital cameras, which means that an incident could be photographed or recorded by a passerby. Thus, in public places citizens no longer have the privacy they used to enjoy; this could benefit public safety.
We already have cameras on street corners, in office buildings and in large public facilities. However, they are immobile and mainly record images from one angle. Installing cameras in cabs can be an effective supplement to the overall surveillance system. But the video archive must be kept with caution and its accessibility must be controlled, to protect the privacy of passengers and drivers.
Wuyue Sanren (www.dzwww.com): Cabs are different from a rented property, which is the private space of the tenants as long as there is an active lease. Even the landlords shouldn't enter the property without the permission of the tenants. In a cab, though, passengers share the space with drivers and pay a fee to compensate for the service. Thus, passengers don't enjoy full rental rights in a cab.
The debate over whether cameras should be installed in cabs should be seen as a give-and-take between passenger privacy and driver interests. While riders don't want their images to be recorded or seen by other people, cab drivers face a high risk of being attacked or robbed. If passengers made no concession of rights, they would be totally inconsiderate of cab drivers' personal safety. I opt for the installation of cameras. As riders, we only have to face a camera. Without cameras, drivers are more likely to face a knife.
Chen Yizhou (www.cntv.cn): Cameras blanket our cities and can be found everywhere, from bus stops to shopping malls and banks. I don't think cameras installed in cabs are any different than cameras above ATM machines.