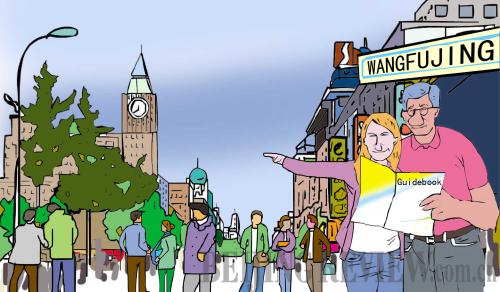 (LI SHIGONG)
Daily travel within Beijing need not be anymore troublesome than going about any major metropolis. Simply, certain basic facts need to be kept in mind, and ordinary precautions taken. Essentially, it's the same situation as midtown Manhattan or downtown Tokyo, except everyone's speaking Chinese.
First and foremost, there are only two types of individuals who have any right to be willingly out-and-about during the rush hours of 8-9 a.m. and 5-6:30 p.m.—commuters and plain jackasses. Obviously, avoiding these crunch-times will sidestep a lot of stress and delay. Examples from the wise: eat earlier or later, spend a bit more museum-time pondering Ming vases, or just plunk down wherever you happen to find yourself and give the latest riveting issue of Beijing Review your rapt attention.
Here it should be noted that the bus and subway systems in Beijing, while certainly reaching maximum capacity at peak hours, do nonetheless generally move along according to schedule. And there are a sufficient number on the main routes. Ergo, if the subway car that has just lumbered in front of you is doing its own version of Rosie O'Donnell in a pair of Calvin Klein's, why stretch your patience and compress your flesh? Chill out for 10 or 15 minutes, and a more accommodating conveyance will roll up.
Avoiding the Beijing-bustle is, however, only the first step in efficient capital city travel. Next you need to have a clear idea of the bus and subway routes in relation to where you want to go.
An up-to-date guidebook (best loaded onto a small pocket E-reader), on-line resources (at least bookmarked, better downloaded in a form that is ready-to-hand), and personal contacts (hotel concierge, local people) are where to get the lowdown on what goes where, when it goes and how reliable it is.
An itinerary means more that just a list of places to visit; it also includes the how of transportation. Further, having some general idea regarding the city's transportation system will not only allow you to be more flexible, but will help if an alternative route or method is unexpectedly needed.
Simple solutions are usually best. For example, if your number one destination in Beijing is the Forbidden City, you'd be well advised to find a hotel within walking distance, because, believe me, buddy, you ain't making it through that place in one visit!
Again, wandering through the Forbidden City's uncountable rooms like some dazed eunuch, or blundering your way through the Beijing Planetarium as if moonstruck, is not only inefficient travel-wise, but highly unedifying, as well. In fact, a visit to any major attraction without some background info and a plan is little more than stumbling happenstance.
Lastly, it should be remembered, that Beijing, like many Chinese cities, has certain, definite sections where the better eating establishments are grouped. While it is true enough that you can always pick up something or other to eat wherever you may happen to be, if you want to sit down to a proper meal in a quality restaurant, traditional Chinese or otherwise, you'd better get some definite addresses.
Let's end with a negative example. Recently a pair of Beijing-newbies concocted the following plan: arrive a little before noon at the famous Wangfujing shopping street, scout out a nice Chinese restaurant, have a good lunch, and then hit the two well-known bookstores. The hapless pair, however, had the misfortune to discover for themselves what any decent guide (printed or breathing) will inform you: Wangfujing is not the place for better restaurants (rather, small snack shops and fast food joints rule the roost). Deciding to pair up their ignorance with hardheadedness, the diligent dunces kept up their pointless search for an hour, finally, in vexed compromise, settling on a mediocre noodle shop. Thus delayed, they were late in getting to the bookstores, which turned out to be larger than they expected. Exhausted and exasperated, the non-planning pair only reached their little ponderosa a couple of breaths short of their last gasp.
None of which was necessary. Yes, Beijing is crowded and complex. But what major city isn't? However, a little know-how and foresight can make your Beijing travel timely.
The writer is an American living in Beijing