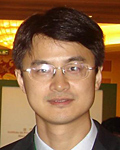 The trade volume between China and Latin American and Caribbean countries has surpassed $100 billion, and China has become that region's second largest trading partner. Their cooperation has increased across the board, including in new energy, climate change, nuclear energy and agricultural technology.
In September 1960, China forged diplomatic ties with Cuba, heralding the beginning of relations with Latin American and Caribbean countries. Half a century has now passed, and it is high time for the two sides to create new plans for the future development of their relations.
Features
Over the past 50 years, relations between China and Latin American and Caribbean countries have taken a unique course.
HI-TECH TOURS: Visitors tour the booths of Chinese companies at an international refrigeration exhibition in Sao Paulo, Brazil, on September 25, 2009 (SONG WEIWEI)
Unlike China's relations with other regions and countries, its relations with Latin American and Caribbean countries have a natural foundation for strategic cooperation, as the two sides have neither territorial disputes nor core interest conflicts.
Currently, they are each faced with the task of economic and social development and are dealing with common problems in governance concepts and development models. As they develop, both are suffering from political, economic, trade and technology barriers imposed by developed countries. A number of emerging Latin American countries, such as Brazil, are faced with the same question as China: How can a nation achieve peaceful growth under Western pressure?
In the 1960s and 1970s, the two sides were mainly connected by the struggle against world hegemony. For instance, China cooperated with a number of socialist or left-wing countries in the region in their fight against U.S. hegemony. China's relations with Cuba served as a typical model during this period.
In the 1970s, relations between China and Latin American and Caribbean countries bore the mission of breaking the diplomatic blockade of the United States and the Soviet Union. In this period, China established diplomatic relations with major countries in the region such as Brazil, Mexico and Argentina.
After that, in the 1980s and 1990s, the two sides embraced a period of all-around development, featuring increased high-level political exchanges, the beginning of cultural, scientific and technological cooperation, and an increase in citizen exchanges.
After entering the 21st century, China and Latin American and Caribbean countries got into a pattern of rapid economic development, and bilateral economic and trade cooperation took center stage. The trade volume between the two sides increased from tens of millions of dollars shortly after they established diplomatic relations to more than $100 billion in 2009. Scientific, technological and cultural cooperation is also strengthening. China has intensified its cooperation with Brazil in meteorological satellites, and has established Confucius Institutes—educational institutions devoted to spreading knowledge about Chinese language and culture—in many countries in the region. Clearly, the relationship between China and Latin American and Caribbean countries is becoming a comprehensive partnership.
The most fundamental cooperation basis between the two sides lies in the complementary nature of their economies. Latin American nations control rich resources, including Venezuelan oil, Brazilian iron ore and soybeans and Chilean copper. These resources are their major export products and the main force pushing them toward further economic growth.
China manufactures a large number of mechanical and electrical products, as well as light industry products, which are demanded by Latin American markets. The development of economic and trade cooperation between China and Latin American and Caribbean countries in the past 50 years—and especially in the past 10 years—serves as sound proof.
Changes
Chinese President Hu Jintao's 2004 Latin America visit, spurred even more cooperation opportunities for China and Latin America.
In light of the big adjustments and reforms of the world, multi-polarization has become irreversible. It is more important than ever for China to have a clear mind of the significance of its cooperation with Latin America, especially with major countries in the region. So far, China has established strategic partnerships with Brazil, Argentina, Mexico, Venezuela and Peru. China's Policy Paper on Latin America and the Caribbean, which was issued in November 2008, indicated that it had already regarded the region as strategically important.
After the financial crisis, global systems faced readjustment. China, Brazil, Argentina and Mexico, which are all members of the Group of 20 major economies, have enjoyed excellent interaction, consultation and cooperation in the reform of the global financial system.
Such cooperation was also seen between China and Brazil under the BASIC (Brazil, South Africa, India and China) and BRIC (Brazil, Russia, India and China) frameworks, with regard to climate change negotiations and the reform of the world economic order. This cooperation has transcended bilateral or regional dimensions and has become globally significant.