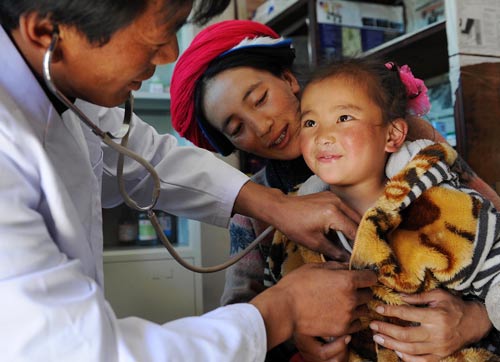 HEALTHY AND HAPPY: A 5-year-old Tibetan girl receives a checkup at her village clinic in Diqing Tibetan Autonomous Prefecture, Yunnan Province, in December 2009. The government will inject more money into improving health care quality over the next five years (LIN YIGUANG)
The country should continue to uphold the public ownership economy as its pillar, while creating an environment that allows all types of ownership equal access to production elements, fair market competition and equal legal protection.
Efforts should be made to deepen reforms in monopoly industries, and to encourage non-state-owned enterprises to participate in the reforms conducted in state-owned companies.
Meanwhile, the document says China will "nurture and develop seven new strategic industries with favorable policies during the next five years."
The industries are new-generation information technology, energy-saving and environmental protection, new energy, biology, high-end equipment manufacturing, new materials and new-energy cars.
China will boost policy support and planning guidance to promote research and development in key technologies and develop the seven strategic sectors into pillar industries to improve competitiveness and economic efficiency, it said.
The government will put forward fiscal, tax and financial policies to support major state-level science and technology projects and domestic indigenous innovation to promote the development of hi-tech industries, it said.
China is set to make the reduction of energy consumption intensity and carbon dioxide emission "binding goals" in the 2011-15 period, according to the proposal.
The country will devote major efforts to boosting the efficiency of energy use, developing a "recycling economy," promoting the economic use of natural resources and strengthening environmental and ecological protection, it said.
China will forge ahead with its research and utilization of low-carbon technologies and make progressive efforts to establish carbon trade markets.
The document also said China will focus on improving community health care services as its health-care reforms increase pace during the next five years.
New healthcare resources will be channeled to rural and urban communities, it said.
The government said it will further reform public hospitals so that larger hospitals in the cities can cooperate with grassroots medical institutions.
Private medical institutions are encouraged to improve the quality and efficiency of medical services through competition, and meet the public's need for diverse medical services, the document said.
China is still in an important period of strategic opportunities during which there is a great deal China can achieve, and it is faced with both precious historic opportunities and plenty of foreseeable and unforeseeable risks and challenges.
The 12th Five-Year Program on National Economic and Social Development, to be drafted by the State Council, is expected to be reviewed at the Fourth Session of the 11th National People's Congress next March.
Major Targets From The Proposal
– to accelerate the transformation of the economic development pattern
– to further expand domestic demand and maintain stable and relatively fast economic growth
– to push forward the modernization of agriculture
– to develop a modern industrial system
– to promote coordinated development of all regions and urbanization
– to build an energy-efficient and environmentally friendly society
– to further enforce the strategy of rejuvenating the nation through science and education and through the cultivation of talented personnel to build an innovative country
– to remarkably enhance social construction and establish a comprehensive public services system
– to enhance China's cultural soft power
– to continuously deepen reform and opening up and perfect the socialist market economy
Source: Xinhua News Agency