FACE OF CHINA: Li Na of China returns the ball during the women's singles quarterfinal match against Anastasija Sevastonva of Latvia at the China Open tennis tournament in Beijing on October 8 (JIANG XIAOYING)
During those competitions, tennis carnivals are also held for the general public to enjoy the sport.
"We hope with the platform of those carnivals, tennis will become even more and more popular at the grassroots level," Chinese tennis chief Sun said.
Besides, many other activities are also held each year to popularize the sport among the public.
The Swing for the Stars program is a junior tennis development program in 2008. It offers comprehensive support in promoting the development of tennis in China and aims to cultivate future stars.
After years of toiling in obscurity, China's male tennis players may finally be grabbing a toehold on the ATP circuit.
At the 2010 Shanghai Rolex Masters, wild card Bai Yan, the 21-year-old world No.465, dismissed Czech veteran Radek Stepanek, a former world top-10 player, in his ATP main draw debut on October 12, heralding a major breakthrough for China's male players on the international stage.
Men's growth
A few hours after Bai's unexpected victory, another Chinese youngster, Zhang Ze, the world No.308, almost caused another major upset when he pushed former world No.3 Ivan Ljubicic to three sets before losing 5-7, 6-3, 6-4.
Even to diehards of Chinese tennis, the names of the country's top male tennis players are unfamiliar. A bunch of 20-something young aces including Zhang and Bai still have a long way to go due to a lack of experience in high-level tournaments.
"I think the male players in China are still at the beginner's stage. None of us has experienced many high-level matches in big tournaments," Bai said after returning to reality when Murray defeated him in a quick second-round match.
Keen to play at high-level tournaments, but hamstrung by their rankings, China's aces are trapped in a dilemma.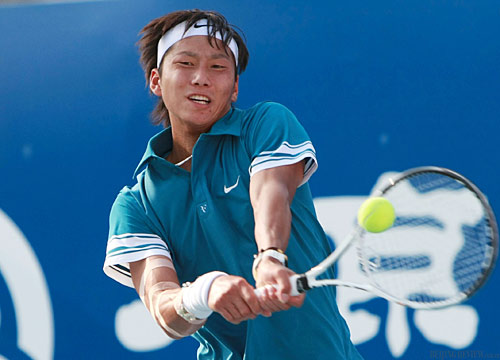 PLAYING ON STAGE: The 21-year-old Chinese tennis player Bai Yan hits the ball in a match during the 2010 Shanghai Rolex Masters on October 8 (JIANG XIAOYING)
Sun said the CTA is trying to hold more games to provide a proper stage for Chinese players to reach the world's top level.
"There are more than 10 ATP Challengers on our players' schedule this year, it is a valuable opportunity to feel the pressure in close matches against opponents within the top 200-300 and to gain more points than from the International Tennis Federation (ITF) Futures," Lu Ling, the men's national team's head coach, said in Nanjing on October 14 during the 2010 Mercedes-Benz China Tennis Grand Prix.
"Obviously, it's much harder for the men to catch up to the rest of the world than the women. But a bunch of young guys around the top 400 show great potential," said Tomas Hogstedt, coach of Li Na. "What they need is patience and confidence."
Although Chinese tennis has achieved great progress in recent years, there are still many worries for the officials and players.
Apart from Li and Zheng and another veteran, Peng Shuai, the world No.61, there are only two other Chinese players ranked in the world top 200—21-year-old Zhang Shuai at No.83 and 20-year-old Han Xinyun at No.145.
During this year's China Open, only Li saved some face for the hosts, but younger Chinese players failed to step forward. Ten of 11 young Chinese women players failed to win a match in Open qualification and all failed to enter the main draw.
During a news conference on October 6, Sun openly lambasted the new generation of women's players by describing them as the "affluent second generation," which negatively refers to young people born into wealthy families in China.
"They have been provided with better training facilities and conditions than the senior players. But I do not think they fully recognize the significance of their play, especially in big events," Sun said.
Zhang Shuai, once seen as a tennis prodigy, said the burden of high expectations might be the reason behind the lackluster performances of the young Chinese at major events.
System obstacle
Han said a lack of flexibility in choosing competitions was another negative factor.
"According to the sports system, we have to decide which competitions to play at the beginning of a season and cannot change it despite our physical condition at different times," said Han. "I will be more careful when I choose next year's events."
Today, the CTA is still using the state-support system to train its young athletes. Under the system, the young players are managed by the CTA and cannot have private training and competition schedules to support their individual needs and physical conditions.
In late 2002, Li quit Chinese tennis for about a year partly because she felt the training was too regimented and outdated.
In December 2008, the nation's top four women's players, Li, Zheng, Peng and Yan, became the first Chinese athletes to be granted unprecedented freedom in managing their careers.
It means they can select their own schedules, coaches and backup teams, and do not have to hand over a significant portion of their prize money to the CTA.
The move initially raised doubts about whether the players would survive on the WTA tour, but Li and Zheng, in particular, have thrived.
Li said, "I believe more and more Chinese players will come through and find their rightful place in the tennis world."