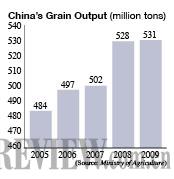 But the ripple effect has been barely felt, said Zhang Xiaoqiang, Vice Chairman of the National Development and Reform Commission (NDRC).
Despite the recent increase in imports, China relies on foreign markets for barely 1 percent to meet its demands for wheat, he said.
Beside this, the government has extensive reserves of grain and is capable of keeping food prices under control, he said.
China's grain inventory-to-consumption ratio is now more than 40 percent, well above the international security line of 17-18 percent.
Meanwhile, a string of government measures have also helped shore up the agricultural industry, said Zhang.
The Chinese Government this year distributed 15.5 billion yuan ($2.3 billion) in subsidies for farmers to purchase agricultural machinery, compared with 70 million yuan ($10.4 million) in 2004. It also bumped up the minimum purchase price of rice and wheat.
A new season
While a bumper harvest is on the way for this year, the long-term grain safety is far from guaranteed given an expanding population and the growing living standards.
China expects its annual grain consumption to reach 572.5 million tons by 2020, and to maintain a food self-sufficiency rate of 95 percent, at least 540 million tons of grain output will be needed, said Zhang Ping, Chairman of the NDRC.
The goal is actually not within easy reach given the country's limited cultivated land, scarce water and relatively weak agricultural technologies.
To ensure sustainable grain supplies, China has enacted strict policies to protect arable land and also set a "red line" to guarantee its arable land never shrinks to less than 120 million hectares. But the country is already edging dangerously close to that line, with just 121.7 million hectares available by the end of 2009, according to data from the Ministry of Land and Resources.
In the past 13 years, China has lost 8.2 million hectares of arable land due to urbanization and forest and grassland replanting programs, as well as damage caused by natural disasters. The country's per-capita arable land is now a minimum 0.092 hectare, only 40 percent of the world's average.
It's urgent now to curb decreases in arable land, which is crucial to grain security, said Zheng Fengtian, a professor at the Renmin University of China.
A lack of irrigation is also stretching the nerves of policymakers. The Ministry of Water Resources said water shortages to the agricultural sector stand at a dizzying 30 billion tons annually.
"This is the result of the drought climate in north China and the fragile irrigation infrastructure," said Zheng. "Many irrigation facilities in the countryside are either outdated or broken."
But the biggest question was how to encourage the farmers to plant more crops, said Ma Wenfeng, a senior analyst at the Beijing-based Orient Agribusiness Consultant Ltd.
Due to relatively low grain prices, Chinese farmers earn much less than urban employees. That is why many chose to leave their land fallow and seek jobs in the cities, he said.
The number of migrant workers across the nation had amounted to 23 million by the end of 2009, climbing 1.9 percent year on year, said the National Bureau of Statistics.
In the next 20 years, another 400 million rural residents may migrate to cities, leaving even fewer farmers in the fields, said Zuo Xuejin, Executive Vice President of the Shanghai Academy of Social Sciences.
In response, it is necessary to boost farmers' incomes and further strengthen subsidies for them to buy machinery and fine strains of crops, he said.
NDRC Chairman Zhang Ping suggested that the country should further strengthen its grain production capacity by improving agricultural infrastructure and expanding the use of high-yielding strains.
Efforts are also needed to press ahead with modern farming technologies and bolster the farmers' ability to fight natural disasters, he said.
Zhang said China has established an initial emergency response system for grain security, and reinforced the production, storage, transportation and distribution of food and grain in emergency situations.
It would also be helpful if China could foster a number of international competitive grain processing enterprises, said Li Guoxiang, a researcher at the Rural Development Institute of the Chinese Academy of Social Sciences.
That would be instrumental in sustaining domestic grain supplies and fending off the impact of global price fluctuations, he said.