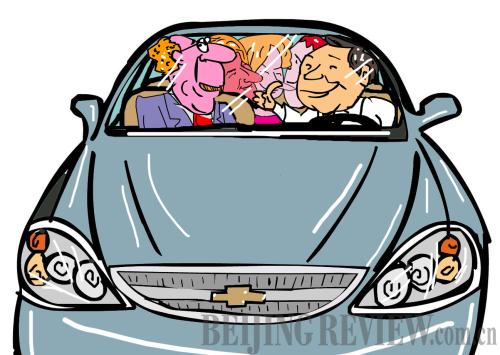 (LI SHIGONG)
If there's one thing I've learned about China since moving here, it's this: The rules of the road are far different than those Stateside. Actually, perhaps the word "rules" is a bit of an overstatement; "suggestions of the road" may be more fitting.
Now, I don't want to come off as just another foreigner complaining about the chaos that is called driving in China, especially in Beijing—because I actually find it quite fascinating. Yes, at times it seems a bit unsafe, compared to just being a nuisance, but this China-specific driving style adds to the excitement of city living.
And while no two driving experiences have been the same, one driver stands out—his name was John.
John is a driver for hire, specializing in tours of Beijing and trips to Mutianyu and other parts of the Great Wall. I found him on the Web with a simple Google search of "Beijing, driver, Mutianyu." Family members would be visiting and I wanted to take them to the Great Wall, but avoid the hassle of a tour bus or tour group. John seemed to be the perfect option.
Reviews on his website were favorable. He was a nice, easygoing, funny guy. He spoke English extremely well. He'd get us to Mutianyu fast. He was just the kind of driver I was looking for.
John picked us up bright and early and off we went in his dark colored, American-made Chevrolet car. John liked American cars. He needed the horsepower, he said, but I didn't know why. I soon found out.
From previous trips to Mutianyu, I knew that it usually takes an hour and a half to get to the parking area. John got us there in just under an hour.
On the Airport Expressway, John cruised along, passing cars, trucks and a few police cars. Left lane, right lane, left lane, right lane—he'd spend only a few seconds in each before passing one car, coming bumper to bumper with another and passing that one as well. Once we reached the back roads, John slowed a bit but persisted in passing car after car. On turns where you couldn't see oncoming traffic, he'd pass. He even managed to pass while sending a text on his iPhone—and while I, sitting in the front seat, held my breath.
The whole drive he was laughing, but not like a madman, despite almost driving like one at times. From the moment we left Beijing, he was joking about life in the city, politics and news from America. He told us about his family, about his daughter who wanted to study in the United States and his ambition to go to America with her and continue his driving service (perhaps with tours around Washington, D.C. or New York City, depending on where she was accepted). He asked about my family's visit to Beijing and made some suggestions for Peking opera performances, restaurants, acrobatic shows and other sights around the city. He really knew his stuff.
And his English was superb, the best I'd heard from any driver in Beijing. It made our conversations more enjoyable and the ride less stressful.
After walking the wall, I thought I'd be able to catch some sleep on the drive back, but sleep couldn't catch me—John was driving too fast. But I think he got the message from the looks on our faces and gasps as we maneuvered between traffic and he slowed down. It took over an hour to get back to Beijing, and we were perfectly fine with that.
Was John a reckless driver? Perhaps. But was he a bad driver? Absolutely not. While I felt like he was taking a few too many liberties with the road, not once did I feel like we were in any serious danger or that John wasn't in control of the vehicle. We never had any near hits—only near misses (hey, I'm an optimist)—and John was quite confident in the way he was driving.
That's why I hired him a second time.
When the next batch of family members came to visit, I called John. They'd been forewarned about the trip to Mutianyu, but even with a complete briefing John still had a few tricks up his sleeve. In the parking lot, John maneuvered the car into the throughway where cars get out, proclaiming, "This is MY space." Oh, John.
Since my two trips I've recommended John to several friends and received no complaints. Because, all in all, despite a little wild driving, John knew what he was doing. And I doubt for only 600 yuan ($90) he'd put anyone's lives, or his car, in danger.
The author is an American living in Beijing