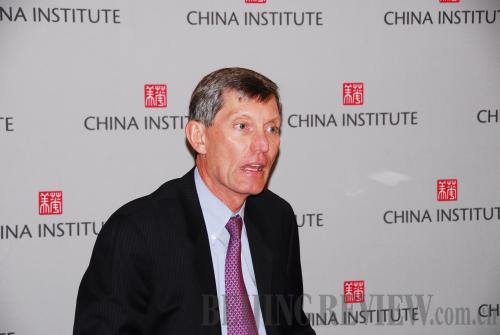 Steven Dunaway, adjunct senior fellow for International Economics, Council on Foreign Relations
So China can't afford a long debate. This 12th five-year plan should contain very aggressive policies to stimulate internal private consumption.
Interest rate hike
Stephen Roach: China's interest rate hike was just one move—it's not clear if there's going to be a series of additional moves.
If I had to take a guess right now, I don't think there are going to be too many additional moves. But I think that because it was made shortly after an increase in the bank reserve requirements that these actions together aim more at dealing with the residential property bubble than dealing with pressures coming from the United States or any other foreign country.
Steven Dunaway: The increase was related to domestic consideration as opposed to external consideration. The hike made it clear that the government was not entirely happy with the situation concerning inflation and that they were trying to cool things down. That is the main reason behind the hike.
It was also directed at the real estate market to let developers know that the government is still concerned about housing and property prices. But in particular, they're more concerned of the consumption side, particularly food prices.
I don't think there is going to be a series of moves to raise the interest rate. They'll sit back and watch for a while. The key will be toward the end of this year or early next year when they announce the credit target. That'll be the key indicator as to which way monetary policy will go.
Tackling inflation
Stephen Roach: The rate hike sent a strong signal that Chinese authorities are determined to prevent the property bubble from getting unmanageable. But I don't think the rate hike itself is enough to stop it. If you combine the rate hike with the bank reserve requirement increase, it should put speculators on notice that there is more to come.
I look at the data week by week in terms of home sales from Chinese developers, and it looks like at least in the last couple of weeks activities have softened again. But really, it's too soon to tell.
Steven Dunaway: I don't think the hike will have much impact on curbing inflation. The most effective tool that the central bank has is its credit policy.
Growth in the rest of the world is slow. Given relatively weak growth and world consumption, China may need to hold that credit target up in order to stimulate enough domestic activity.
The dilemma is this: In the next several years that they are not likely to get a big surge in exports as they had in the past to maintain rapid growth. So now the government has to decide how much money to put into the economy or what kind of spending will be needed to keep up the 8-9 percent (GDP) growth rate target.
Property bubble
Stephen Roach: This is and is going to be a problem.
Earlier this year, the government took action with a series of administrative measures. And it initially looked as if those top administrative measures in mid-April worked. But then over the summer, especially right after the National Day holiday (October 1-7), there was a strong resurgence in speculative activities.
If there's something we've learned from the financial crisis, I hope it's that excess speculative activities and excess bubbles can be very dangerous for the economy. China is right to turn more aggressive in terms of easing its policy to avoid the damage that might come from the bubble.
Steven Dunaway: They've been talking about property bubbles since the late 1980s. In some of the major cities, yes, there are conditions for bubbles. But at the end of the day, whether it will turn into a big problem or not all hinges on credit policy.
There is the risk that over the next three to five years that China could end up with a significant bubble.
The 'Chinese model'
Stephen Roach: China has had a unique approach to economic development that has been extremely successful over the past 30 years. This approach has stressed two key sectors: export and fixed-asset investment, which is maybe half driven by the export business itself; and internal private consumption.
Whether or not this is a model, or structural or economic approach, it's a very unique, very powerful, very successful approach to economic development. But the point I've made and the point that I'm teaching in my course at Yale is that this approach is not a sustainable one. Premier Wen Jiabao himself has agreed, for most of the last three and a half years, in describing the Chinese approach as unstable, unbalanced, uncoordinated and ultimately unsustainable, so it gives you an idea of some of the things that need to be addressed to find a different approach that is more sustainable.