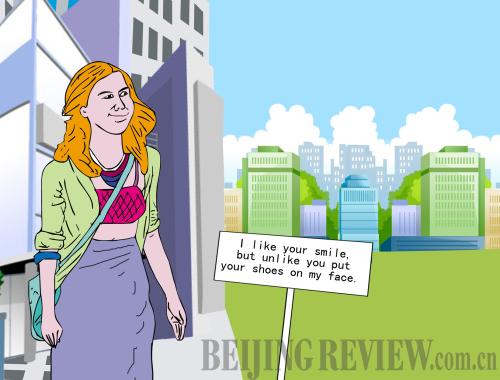 (LI SHIGONG)
I celebrated my one-year anniversary with China last month. It's been a whirlwind romance full of highs and lows, disagreements and reconciliations, admonishments and promises, all of which have led up to my marking our big day with a special kind of commitment: I signed a new lease on my flat. So now that China and I are bound together in bizarre matrimony for another year, I thought I'd mark the occasion by cataloging the highlights of my first 12 months in a country like no other. So without further ado, and in no particular order, here we go:
Bicycle Equality
The hideous Beijing traffic would undoubtedly feature in my "top five" list of China lows, but one enormous saving grace is that when I'm on my bike I do not feel like a second-class citizen. If I sail in front of a car, it slows down. When I get to my destination there's usually a huge parking space especially for cyclists, to save me attaching my bicycle to a chain link fence. If a vehicle gets in my way in the cycle lane, I roll into the traffic lane with impunity. Try any of that in the UK and you'll be under a bus before you can say "greenhouse gases."
The Great Wall
I'm sorry, I know it's clichéd and I'm copping out by putting it on the list, but then again how can you possibly neglect it? My first visit to the world's most famous landmark not only lived up to all expectations; it was also a delightfully Chinese combination of fulfilled expectations and unexpected surprises. When we arrived, it was very quiet. The stunning views and incredibly atmospheric silence lasted until we'd walked for about a kilometer, when my companion pointed out he could hear music. "That sounds familiar," he said. "I could be wrong, but I think it's from The Sound of Music." And sure enough, in the middle of the Chinese mountains, perched on a deserted section of one of the world's greatest engineering projects, was a little Chinese man playing High on a Hill Stood a Lonely Goatherd on the accordion. The combination of grandeur and goatherd made for my best China day ever.
Chinglish Signage
I know that this shouldn't be on the list because I should never, ever mock the Chinese ability to speak English until my Mandarin is flawless. However, I am occasionally overwhelmed with wonder at how certain translations, usually in official or important places, have come about. My current favorite is one asking folks to keep off the grass: "I like your smile, but unlike you put your shoes on my face." They just make life so, so much more interesting.
Chinese New Year
Another slight cliché, but something that deservedly makes the list as an event I shall never forget. I got my first taste of New Year celebrations Chinese-style several days before the real thing: I was in the process of crossing the dual carriage way and something rolled into the road and hit my foot. "That looks a bit like a firework," I thought. Turns out it was a firework—about 10 seconds later it exploded into a shower of blue and green sparks that lit up the road and sent a couple of cars swerving onto the grass verge. This was a mere taster: to see in the Year of the Tiger Beijing turned into a marginally less traumatic version of the Western Front, and midnight was the sensory equivalent of going over the top. The sky turned into a riot of noise and color as millions and millions of fireworks exploded across the city to bring in the New Year. Seeing a city of 16 million illuminated by the multi-colored blaze of a billion fireworks is not really something you can describe very well, but it's something I shall never forget.
Fashion
I adore the fact that anything goes. Pajamas with high heels? Fine. A suit jacket teamed with jogging pants? No problem. Slogan T-shirts that don't make sense? Who cares? The Chinese attitude to fashion epitomizes everything I like about being here: It's unpredictable, colorful, manic and ever changing.
Having said that, I feel as though one day, those very reasons I love being here might eventually convince me I've had enough and I'll return to my home. But for the moment I'll push into my second year of China with the happy anticipation of many more highlights to be discovered.
The writer is a Briton living in Beijing