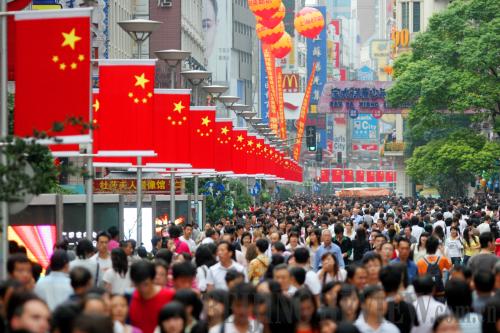 HARD TO COUNT: Crowds on a pedestrian street in Shanghai during the seven-day National Day holiday in 2008 (CFP)
China is updating its demographic information through its once-in-a-decade population census. The latest database will be used as an important reference for the country to draft its development plan for the next five years and deal with social problems, such as an aging society and imbalanced gender ratio, according to experts.
In the first 10 days of November, 6 million census takers went door-to-door asking everyone living and working on the Chinese mainland information about their personal lives.
Census takers are expected to visit every household and not leave anyone uncounted, said Feng Nailin, chief of the Population and Employment Statistics Department with China's National Bureau of Statistics (NBS).
About 90 percent of the people have been asked to fill in an 18-item form, covering their name, gender, ethnic group, household registration and education; the other 10 percent, chosen randomly, have been asked to fill in a longer 45-question form.
Anyone born before November 1, 2010 is included, and anyone born after that day is left out until the next census, in 2020, according to NBS.
Foreigners in China, except those on short-term business or vacation, were surveyed for the first time and only had to answer eight questions. The census collected data on their name, age, gender, nationality, educational background, purpose and duration of stay. Questionnaires are available in several foreign languages.
Statistics of this census will be sorted and calculated beginning in December and the main results will be released by the end of April 2011.
Top government officials with the State Council said the census is an important way to get to know the country better and it will provide a basis for policy making.
China began conducting a national population census every 10 years in 1990. In the last census conducted in 2000, China's population stood at 1.295 billion.
Around 700 million yuan ($103 million) of Central Government funds will be spent on the census, according to official figures. Local governments are estimated to invest 10 times the Central Government's budget, bringing the total fund to around 8 billion yuan ($1.19 billion).
"The fund is mainly used to pay census takers and census instructors, for their training and stationary, printing the census forms and promotion of the census," Feng told The Beijing News.
Difficulty in head counting
"My biggest concerns about the data's accuracy come from the fact that some people might intentionally hide information on their children born in violation of the family planning policy to avoid paying fines and census takers might omit counting some migrant workers due to their highly mobile life," Zhang Yi, a scholar of the Institute of Population and Labor Economics under the Chinese Academy of Social Sciences, told Beijing Review.
Zhang estimated that there are around 210 million Chinese people who don't live in places where their households are officially registered and more than 150 million of them are migrant laborers from rural areas.
Another challenge for census takers is people's growing concern about their privacy being leaked.
The 18-question census form has two questions on the housing conditions of the surveyed—the number of rooms and total area of their homes—while the 45-question form has more housing questions, including the construction date, structure, facilities and rent rate. Ma Jiantang, head of NBS, said the census would also be used to learn about China's housing vacancy rate.
Such questions have made people with more than one home think again before opening their doors to census takers, as there are recent reports the government may introduce new taxes on real estate.
"We have a National Population Census Regulation, which strictly forbids the leaks of individuals' information collected by the census. Information collected during the census will not be used by the government as basis for issuing administrative punishment against the surveyed," said Feng. But he also admitted that some people had doubts about whether the regulation would be well implemented during the census.
Police assistance was sought when people repeatedly refused to open the door for the census takers.