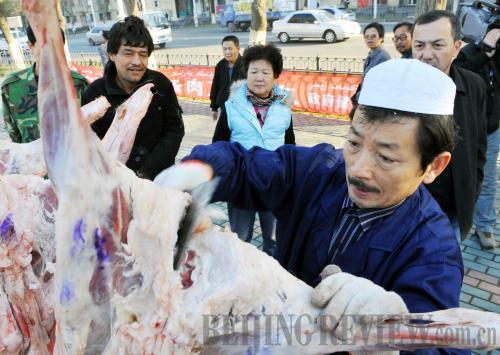 FIGHTING INFLATION: Consumers purchase subsidized mutton in Urumqi, capital of northwest China's Xinjiang Uygur Autonomous Region. In a bid to contain inflation, the autonomous region's government tapped into its reserves to provide cheaper mutton for consumers (CFP)
At a government work meeting earlier this year, Chinese Premier Wen Jiabao pledged to stick to a "moderately loose" monetary policy throughout 2010 for fear the then-fragile recovery would come to an abrupt end if the stimulus measures were pulled.
"The central bank has adopted an extremely loose monetary policy," said Wu Xiaoling, Vice Chairman of the Financial and Economic Committee of the Standing Committee of the National People's Congress. "Our seemingly robust economic growth in the past three decades was actually built upon excess money supply."
The quantitative easing monetary policies adopted by some major economies add pressure to China's efforts in battling inflation, according to the 2010 Third Quarter China Macro-Economic Situation Analysis published by the central bank on October 27. The U.S. Federal Reserve said on November 3 that it would buy up an additional $600 billion in long-term Treasury bonds by the end of June 2011 as part of its quantitative easing strategy to support a sustained economic recovery.
The greenbacks produced by the United States have flooded the global market, pushing up international commodity prices, as most are valued in the U.S. dollar.
Chinese Minister of Commerce Chen Deming condemned the United States for the out-of-control dollar printing, which puts U.S. problems onto the shoulders of other countries, including China.
The Chinese central bank report warned of rising price surges in the near future and cited several other reasons.
The domestic monetary and credit environment is still loose and might continue to be so for the rest of the year, the report said. The growth of the broad money supply was close to or above 30 percent for nine consecutive months from September 2009 to May 2010, a major reason for the runaway liquidity in the market.
A foreseeable surge in grain prices next year will rub salt in the inflation wound. The rising costs of planting and increasing demand of grains for industrial use will inevitably lead to escalating grain prices.
In addition, the ongoing reforms of income distribution and the resource price system should also be taken into account, said the central bank report.
No worries
Louis Kuijs, senior economist of the World Bank China office, believes inflation will not escalate in China. He argues that in an emerging market like China where the economy undergoes rapid changes, "it's OK for there to be inflation. And a 3- or 4- or 5-percent inflation rate is not necessarily that alarming," Kuijs said in an interview with Beijing Review.
He said the changes in the economy demand relative price changes.
Kuijs contends that it is not good to try to suppress the inflation, especially if wages start to increase at the lower end of the labor market.
"If you look at the prospects for inflation, two key channels can give you a lot of inflation. One is a very rapid increase in raw commodities," Kuijs said, adding that he expects the supply of commodities to remain higher than demand for a few more years. There is also little room for rapid increases in commodity prices in the medium term, notwithstanding sharp volatility in the short term.
"The second key channel is core inflation, which is determined by the wage pressure in the manufacturing sector," Kuijs said, adding that the manufacturing sector is expected to absorb these increases.
The domestic economy has cooled through 2010 as the stimulus impact fades and the monetary stance normalizes. Investment and urban consumption have decelerated, and so have imports.
In spite of the food price surge, residents in major cities with above average salaries have not been as affected as those with smaller incomes. "Who cares about one or two yuan increases in cabbage prices?" exclaimed Xiao Wei, a 22-year-old Shenzhen resident at an exhibition company.
But one thing does upset her—the unbelievably high housing price. After two years of working in Shenzhen, Xiao earns approximately 5,000 yuan ($751) a month. "But rent alone costs me 2,000 yuan ($300), and I do not even dare to look at the price of buying a small apartment."
In Shenzhen, the average price per square meter is about 16,000 yuan ($2,388). "With my current salary, I would have to work 20 years without any personal consumption for a small two-bedroom apartment!"
At an economic development forum held in Tsinghua University on October 29, economists reached a consensus that inflation in China would come from the sizzling property market instead of the food or energy sector.
In the last 12 months, the average housing price within Beijing's Fourth Ring Road and Shanghai's Outer Ring Road exceeded 30,000 yuan ($4,510) per square meter, 30 percent higher than a year earlier. In September this year, housing prices in 70 large and medium-sized cities rose 9.1 percent from the same month in 2009, reaching a historical level.
The World Bank's China Quarterly Update said the most important macro-economic risks are non-performing loans and prices of housing, equity and possibly other assets. Moreover, while the inflation outlook does not seem worrisome, the risks to inflation call for vigilance, managing inflation expectations, and monetary policy leeway. With the economy operating close to full capacity and the growth outlook robust, further consolidation of the monetary stance is needed.