Tudou, one of China's first—and the world's largest—online video websites, is preparing for an initial public offering (IPO) on the Nasdaq. Unnamed sources said the firm plans to list in the first quarter of 2011 and expects to raise $100-150 million in the IPO. Tudou has hired Credit Suisse and Deutsche Bank for the planned IPO.
With five rounds of financing from venture capital firms like IDG China, GGV Capital and Singapore's state investment firm Temasek, Tudou has already raised $135 million from the investors.
Wang Wei, founder and chief executive officer of Tudou.com, said the company's framework had been worked out according to Nasdaq standards, and most of its investors were from overseas, which is why the company will be listing on the Nasdaq.
China currently has nearly 40 popular online video websites, two of which have gone public: Ku6.com and Letv.com. Ku6 was listed on the Nasdaq at the end of 2009, and Letv.com was listed on the Shenzhen Stock Exchange in August 2010.
The two listed video websites, however, still haven't been able to compete with Tudou in terms of advertising revenue.
First of its kind
Tudou.com, officially launched on April 15, 2005, was China's first online video website that allowed users to easily post, browse and share videos.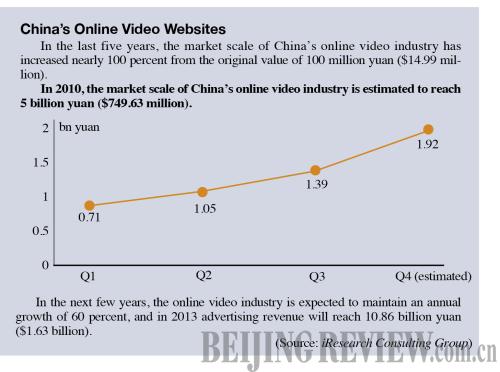 Now, Tudou.com has more than 15 million users and its videos, made by both netizens and commercial content providers, are viewed more than 100 million times a day.
Tudou's origins are deeply rooted in foreign technologies. Before setting up Tudou.com, Wang was director of corporate development at Bertelsmann headquarters in Germany and concurrently executive president of BOL China. Wang later worked for Hughes Network Systems, LLC in the United States, responsible for the satellite broadband and satellite television business in Asia.
Following Tudou's example, a slew of video websites sprang up in China. Even as the website with the most experience, Tudou.com is now facing stiff competition from latecomer Youku.com. To deal with the competition, Tudou launched two long-term plans in May 2010: a made-for-Internet original content production plan named Orange Box and an independent filmmakers' program called Warehouse No.6. With these plans, Tudou will be the first to transform from a pure video platform provider to the dual role of platform and content provider, kicking off its initiative to produce content for television.
Reliable profit model?
Tudou's planned Nasdaq listing may run into trouble—the company is in the midst of another infringement litigation that may affect its overseas listing plan.
In early October, Beijing-based online video website Voole.com sued Tudou for illegally playing Voole content. Nearly 100 programs are included in the litigation, and Voole has requested Tudou remove videos under Voole's right of communication and pay damages of nearly 10 million yuan ($1.5 million).
The case is now in the stage of intermediation by the People's Court of Pudong New District in Shanghai.
Tudou was also sued in 2007 and 2008 for infringement. Although the required damages were not large, the cases marred Tudou's reputation and goal of becoming a legitimate video website.
Copyright disputes have been a bane for the video website industry, with many websites forced to close down following legal actions.
A report from Hexun.com said since the first Internet copyright dispute was taken to trial in 1999, the First Intermediate People's Court of Beijing has accepted 966 similar cases. Based on the number of cases, which increases each year, "litigation" has become a key word often associated with the online video industry.