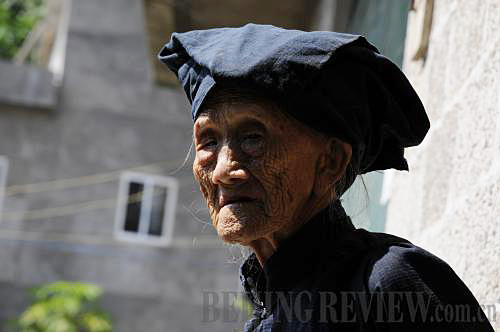 LONGEST-LIVED: Luo Meizhen, 125-year-old, from Bama Yao Autonomous County in Guangxi Zhuang Autonomous Region is China's oldest person (LIANG SHAOEN)
Born in 1885, Luo Meizhen can still move quickly and can see and hear well. Until this year, she had climbed a nearby mountain nearly every day to carry out farm work. The lady was recently named the oldest person in China.
The Gerontological Society of China (GSC), which compiled the list, said the 10 oldest seniors come from five ethnic groups in six provinces or autonomous regions with an average age of 119.9 years old. The youngest is 117.
The GSC said, as of August 1, 2010, the number of living seniors aged 100 or older on China's mainland had reached 43,708, a net increase of 3,316 over last year.
"With rapid economic and social development and increasing quality of people's lives, the life expectancy of Chinese has been prolonged and the number of people older than 100 in the country has risen year by year," said Li Bengong, President of the GSC.
Luo is not the oldest in the history of her hometown, Bama Yao Autonomous County in Guangxi Zhuang Autonomous Region. Local records tell of a 142-year-old person of the Yao ethnic group who lived there during the Qing Dynasty (1644-1911).
GSC statistics say Bama has 81 centenarians at present, a rate of 31.7 per 100,000 local population. That far exceeds the United Nations' average for longevity, which is 7.5 centenarians per 100,000 people.
Researchers say the longevity of people in Bama is a result of their healthy lifestyle. For thousands of years, Bama people have worked from sunrise to sunset. They have adequate sleep at night and physical exercise during working hours. Every day, they go up and down the mountains doing farm work, and children tramp over mountains to school. Such high-intensity physical exercise helps build robust constitutions and strong hearts. Besides, many also have the habit of soaking their feet in hot water every night, which is thought by the Chinese to be a simple but effective way to maintain health.
The Bama diet is consistent with traditional Chinese theories on nutrition, health and longevity. People mainly eat vegetables that grow naturally with no fertilizer or pesticide, supplemented by a bit of meat. They have porridge throughout the year, and often boil it together with vegetables, fish and beans. They don't like fried food but prefer food steamed or stewed for a short time, which helps to retain nutritional value.
Beans grow in Bama all year round and are the staple food of people there. For example, Luo likes eating soybeans and sowthistle, a kind of plant that tastes bitter and has also been used as a herbal medicine in China. Another kind of plant, fructus cannabis, is also popular in Bama. Researchers said fructus cannabis helps people absorb vitamins and contains several indispensable nutritional elements, such as fatty and amino acids, which provide the human body with necessary protein. For thousands of years, the plant has been used as a traditional medicine in Asia, Russia and Western Europe.
Scientists also found the Bama menu changes with the seasons. At the same time, all the food is low in fat, calories and salt while high in fiber, complex carbohydrates and vegetable protein.
The diet is not the only reason for the longevity of Bama's people, researchers said. Besides eating healthy, another common characteristic of long-lived people in Bama is tolerance toward others and being content with life, said Xing Yongchuan, an associate professor at the School of Journalism and Communication of Guangxi University.