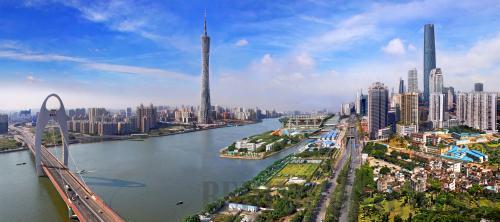 A bird's-eye view of Guangzhou along the Pearl River (XU QIAOZHEN)
Guangdong Province in south China has been busy preparing for the Guangzhou 2010 Asian Games (November 12-27). To ensure success, the province has completed new infrastructure projects, renovated sports facilities, improved the environment, recruited and trained volunteers, and tightened public security measures. But even as it gears up to host the biggest sports event in Asia, Guangdong is looking to the future and repositioning itself from a "world factory," fixated on low-end manufacturing industries, to a major center of economic growth and technological innovation in China, as well as the world.
With thousands of athletes, coaches, business people, political leaders and spectators gathering in Guangdong, the province will showcase its progress in industrial reform, cultural production, hi-tech business, homegrown innovation and the green industry. The underlying goal is to rebrand the province as a hub for new ideas, inventions and emerging industries.
As the cradle of China's reform and opening-up policy, Guangdong has already demonstrated quite a number of advantages and is quickly becoming a model for many other provinces in the country to follow.
—Editor