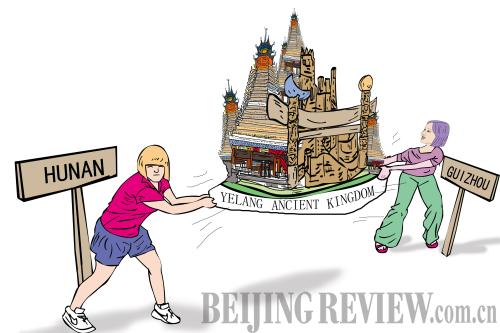 (LI SHIGONG)
An ancient Chinese kingdom largely lost over time may come alive again if the plans of a less developed county in Hunan Province are realized.
Xinhuang County announced on October 16 to rebuild the ancient Kingdom of Yelang using a 5-billion-yuan ($746 million) investment. The rebuilt kingdom would feature 20 theme sites occupying 30 square km and would take advantage of the area's canyon-filled topography and rich religious atmosphere. Construction will begin next year, with a projected completion date of 2020.
Yelang was one of many kingdoms that existed in the southwestern part of the territory controlled by the Han Dynasty (206 B.C.-220), however, it disappeared long ago. Most people agree it was located in the northern part of today's Guizhou Province. But due to a lack of reliable archaeological evidence, Guizhou and neighboring Hunan continue to dispute the actual location of the kingdom.
Investors in the proposed project say they hope it will allow more people to appreciate the mysterious culture of Yelang. According to estimates, more than 5 million tourists per year will visit the rebuilt kingdom after it is completed.
After news of the project was released, hot discussion erupted, with many people questioning the plan. Their concerns centered on four main issues: First, people still argue about whether the capital of the Yelang Kingdom lies in today's Hunan or Guizhou. Second, since Xinhuang has an annual fiscal revenue of only a little more than 100 million yuan ($15 million), where is the massive investment for this project supposed to come from? Third, since the kingdom disappeared nearly 2,000 years ago, on what basis will it be reconstructed? Fourth, is this just another instance of real estate speculation?
Supporters of the plan, on the other hand, think the goal of the project is to bring tangible economic benefits and fame to the county using the "brand" of "Yelang." They think creating a tourist attraction by combining Yelang culture and unique natural resources is a good idea and worthy of support.
Local officials from Xinhuang say the investment for rebuilding the Yelang Kingdom will come from private businesses and the project won't increase the county's budgetary burden.
Not suitable for rebuilding
Ma Zhenguo (www.zjol.com.cn): The Yelang Kingdom is an enigmatic memory. Creating a real version of this kingdom to replace this enigma won't solve its mystery; it will just destroy the beauty of that mystery. The most practical value of this project would be as a wealth factory—using history and the name of an ancient kingdom. Although this fictitious place could bring in a large amount of money, it would take away history from our minds.
For people living in today's world, where economic construction is the central task, using rich historical resources as a means of making money is not a sin. However, distorting history in order to make money is certainly a crime.
Sheng Dalin (Xi'an Evening News): What does 5 billion yuan mean to Xinhuang? Its normal budget revenue is only 68.38 million yuan ($10 million). That is to say, the cost for rebuilding the Yelang Kingdom would be about 50 times the county's annual fiscal revenue.
Reconstruction of the Yelang Kingdom is a tourism project. Xinhuang is obviously looking for it to bring in lots of money in the future. But how much tourism income will be needed to recoup the investment? Since the project was approved, this means the majority of the authorities involved in the decision are confident about its future. However, it doesn't necessarily mean the public will support the project. The actual location of the Yelang Kingdom has not been verified, but most people think that it was located in what is now Guizhou. Furthermore, Xinhuang lies in a remote area, making the potential attractiveness of the rebuilt kingdom not very bright.
When investing in construction and cultural development projects, it is necessary to undertake scientific planning and proceed based on one's real capability. We should be confident but not conceited; we should advance, but not be rash. Xinhuang seems to have excessively high expectations for the impact of Yelang culture; at the same time, it seems to lack a sober realization of its capacity to bear the economic burden of this project. This lack of accurate self-assessment smacks of conceit.
Tang Wei (www.dzwww.com): Culture doesn't have any room for copying or tampering; to do otherwise is to be irresponsible to future generations. If the historical facts future generations see are a sham, what will they feel? There is no final conclusion about what the Yelang Kingdom really is. It is immoral to try to seize the position of defining this kingdom for others when more academic research about the matter is still needed and disputes still exist about its original location.
When it comes to economic development, we should base our plans on our actual capability. An investment of 5 billion yuan perhaps will end up being a pain for all the people of the remote county of Xinhuang, rather than a "group feast."