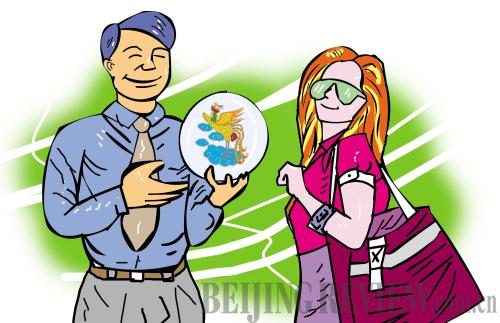 (LI SHIGONG)
"Though we don't show as much direct emotion as Westerners, that doesn't imply the Chinese lack positive feelings," said Yang Junheng, my scholarly friend. "In fact, Chinese people have a deep-seeded sense of humor, which has a great impact on Chinese art and literature."
"But Yang," I protested, "Classical Chinese literature is hard to understand. Chinese paintings seem beautiful but alien. Where is the humor?"
"You must look closely," he said. "We all know life is serious. Even in Asia, laughing philosophers are in the minority. China is the only culture that has created a god of humor. Look at these scrolls—Chinese Taoists and Buddhists made a kind of religion of humor, by having monks performing dances around a ceremonial toad. Scholars made fun of the comedy of manners that ancient people engaged in to succeed. In the Book of Songs, as well as in Tang Dynasty (618-907) poets Li Bai and Du Fu's works, the human condition is often expressed humorously. Chinese writers do not look down on humor, as Western people do. You value John Milton over Samuel Butler. Thank goodness for Chaucer and Thurber!"
"But what about painting?" I countered.
"I have heard that only one Judeo-Christian angel in 3,000 years actually smiled—and, not surprisingly, that angel was French—the Angel of the Annunciation at Rheims. By contrast, Chinese mythology depicts many gods and deities as laughing; some were even making mischief. Your gloomy Dante Alighieri obsessed about the circles of hell, while the Chinese created the romantic legend of the earthly cowherd and the heavenly spinning maid. I concede that ancient Greeks had lovely stories about the cosmos, with some amusing gods and deities. Nevertheless, our deities are more diverting, more pleasant, and have more laughter, especially in relation to those drawn in Jewish and Christian ideologies."
"Are you implying the Chinese are happier than Westerners because they are less religious?" I asked.
"Not at all," he replied. "The Chinese perspective is simply different. Christianity's paradigm perceives man as the dominant creature. Taoist and Buddhist thought, in contrast, sees man as a fellow creature, part of the menagerie of life. Ancient Chinese lived close to animals. They domesticated many species, and they had great fondness for pets. Chinese artists depict animals with humor; by laughing at or with them, they are equally part of the comédie humaine."
"Some Western artists idealize animals, as well as the human form. I'm thinking of Albrecht Dürer and Edgar Degas," I replied.
"But Chinese artists chose freedom of imagination over idealization," said Yang. "They caught animals, for example, in surprising forms and attitudes. Yet, from one point of view, we Chinese act as purists. Ancient Chinese didn't anthropomorphize, using beasts to tell moral tales, as Grimm, Jean de La Fontaine and even Ivan Krylov did."
"I guess because the birds and beasts didn't have to obey strict Confucian orders," I responded with a smile.
"Perhaps," Yang said. "Animals are simply and naively lovable. To live with animals is to live freely, and with a great variety of companions."
"So where is the humor in depicting animals?" I asked him.
"I've seen a Tang Dynasty headrest, shaped into a pig! The sleeper rests his head between snout and tail—is that not humorous?" said Yang.
"Yes," I conceded, "But we have Donald Duck and Mickey Mouse—they're quite funny."
"All ducks are funny creatures; they entertain by bobbing and quacking. Let's examine instead a serious bird. The phoenix symbolizes solemnity, piety, and sacredness. It's not a bird for fun? Yet the phoenix painted on a kitchen dish can share in general good humor. Anyone can eat out of it; the smiling bird contributes to our sense of well-being."
"Do you have a funny rat?" I asked.
Yang said, "In painting we have a very famous picture of rats scavenging together as a family. The mother rat has eaten her way through a melon, so her head and tail are at either end; she's digging out juicy pieces in the middle for her babies. This is dry Chinese humor. A bit strange, but moving. Stay longer in China—you will understand more and more."
The writer is an American living in Beijing