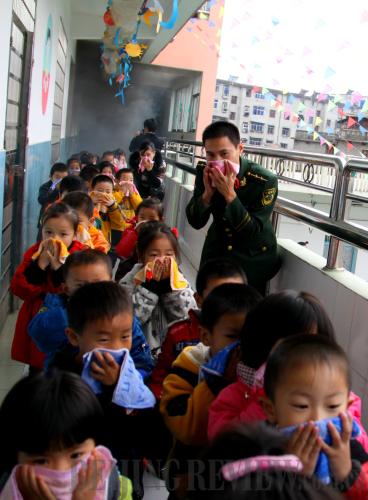 RAISING AWARENESS: Kindergarten children take part in a fire drill on November 18 in Jing'an County, Jiangxi Province (XINHUA)
The inspection team detected safety loopholes at Beijing Children's Hospital and in the Parkson Shopping Center. It ordered the problems fixed.
Preventive measures
Secret inspections will be conducted in other public venues in the city, Fu said.
Fire-control authorities in Anhui Province in east China and Xi'an, capital of northwest China's Shaanxi Province, have kicked off similar inspections of high-rise buildings and places with large populations to prevent further fires.
Xi'an, a city with more than 2,000 buildings taller than 24 meters or 10 stories, is also in the middle of a negotiation to import a fire truck with a powerful hose from Finland to extinguish fires in high-rise buildings.
The fire truck, costing about 25 million yuan ($3.76 million), is able to shoot water up to a height of 101 meters, the highest for any fire truck in the world. By comparison, fire truck hoses in Xi'an currently shoot water up to a height of 53 meters.
The tragedy has brought to light more serious and far-reaching fire safety issues. As urbanization speeds up, more Chinese will be living in high-rise apartments, which makes fire safety all the more vital. And China still has a long way to go in terms of fire prevention, experts say.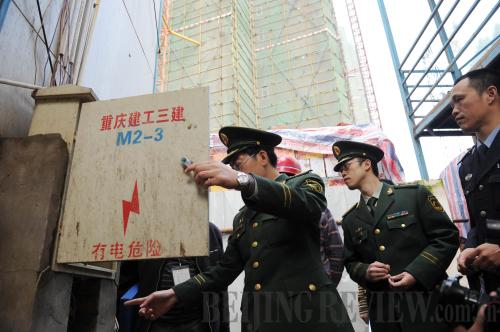 SAFETY FIRST: Fire department officials inspect a construction site in Chongqing on November 17 (CHEN CHENG)
A seminar on high-rises in Shanghai in September 2008 determined the city had become home to the world's largest number of high-rises as there were more than 400 buildings that were over 100 meters in height. While some believe the web of tower blocks display the city's wealth and the country's fast urbanization, others worry these buildings fall short of adequate fire safety measures and enforcement.
High-rise fire fighting poses a global challenge. Fanned by wind, poisonous smoke could reach the top floor of a 100-meter building within half a minute, giving residents slim chance of survival, according to experts.
Chen Weiming, head of the fire department of the Ministry of Public Security, said in April 2009 that effective firefighting in high-rise buildings relies on functioning smoke detectors, automatic sprinklers and firefighting pumps inside these buildings and this fire control system has been proved effective in preventing fires from becoming deadly.
Professor Chen Baosheng at the School of Architecture and Urban Planning of Tongji University told Xinhua News Agency the use of fire prevention technologies in high-rises in China is up-to-date. "But I think we should step up efforts in terms of regulations and maintenance. Fire doors and exits should not be blocked and in the case of this particular building, welding that involves the use of fire should be declared beforehand and supervised," he said.
The Shanghai fire demonstrated the tragic consequences of ignoring the maintenance of fire prevention facilities. The building's escape route was almost blocked by garbage as some residents were forced to cling to the scaffolding, while others jumped to their deaths
The massive blaze has many Shanghai residents checking out the fire prevention equipment in their own building. Many say they need to learn more about what to do during an emergency.
Shen Lin, a reporter at China Youth Daily, wrote in an editorial that China should learn from the United States about how to educate the public to deal with emergencies as 18,000 people managed to evacuate from the twin towers of the World Trade Center within two hours before they collapsed during the September 11 terror attacks. "This miracle of life is possible because everyone has mastered the Life Safety Code published by the National Fire Protection Association. Where is China's Life Safety Code?" writes Shen.
Regarding the fire in Shanghai as a warning beacon, many kindergartens, primary and middle schools in Shanghai recently conducted self-rescue and escape drills during fires for their teachers and students. A report in the Shanghai Evening Post on November 23, some 1,900 teachers and students evacuated from their building in one minute and 45 seconds during one drill in Jincai Experimental Primary School.