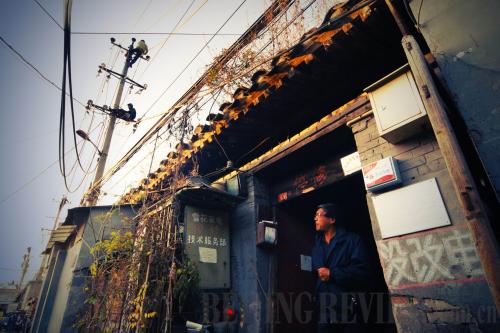 NO MORE COAL: The coal-to-electricity project in Qiansun Hutong, Beijing's Xuanwu District, is under construction on October 2 (ZHANG SHIYUE)
In a bungalow in Xisi North Fifth Alley in the Xicheng District of Beijing, Li has lived for nearly seven decades. In winter, he used to burn coal to keep warm.
Li's life changed about two years ago because of a coal-to-electricity program launched by Beijing Municipal Government, which replaced residential coal-burning stoves with electric heaters in order to reduce pollution.
Now Li heats up his two-bedroom home with two electric heaters. "The heaters keep the rooms warm even in the coldest weather, and mostly importantly, they are clean and safe," Li said. "We no longer need to worry about carbon monoxide poisoning at night."
From coal to electricity
While most modern buildings in Beijing have a central heating system, these old one-story houses do not. Before the coal-to-electricity program, every November, carts transporting coal shuttled between the narrow alleys. Piles of coal sat beside door steps. Even the air smelled of coal.
The municipal government first started the coal-to-electricity program in 2001. By the end of 2009, about 160,000 households in Beijing's historical and cultural preservation areas had said goodbye to their coal-burning stoves, says the Beijing Municipal Environmental Protection Bureau.
In 2010, an additional 13,000 households that are not in the historical and cultural preservation areas in downtown Beijing also converted their winter heating fuel from coal to electricity or natural gas.
All residents in Beijing's current Dongcheng District and Xicheng District will stop using coal stoves by the end of 2014, an official in Beijing Municipal Commission for Development and Reform told The Beijing News recently.
Before the coal-to-electricity program, residents usually preferred coal-burning stoves to electric heaters because burning coal was cheaper. The program makes heating with electricity affordable, Li said.
A separate meter has been installed in Li's home to tally the electricity used for winter heating. Now the heaters turn on automatically at 10 p.m. and off at 6 a.m. Under the program, residents pay 0.3 yuan ($0.04) for each kwh of electricity consumed by the heaters during that period. During the day, they pay the regular electricity cost of about 0.5 yuan ($0.07) per kwh.
Li said he usually switches the heaters off during the day. "The electricity stored in the heat during the night is enough to keep the room warm for me during the day," he said.
The heaters cost him about 12 yuan ($1.8) per day, which translates to about 1,500 yuan ($215) for the winter. Li said his former employer subsidized him for winter heating cost.
Beijing's municipal government and relevant district governments also subsidize residents under the coal-to-electricity program. According to the Beijing Municipal Environmental Protection Bureau, residents can choose to claim a subsidy of 0.2 yuan ($0.03) per kwh of electricity used for winter heating, or a minimum of 900 yuan ($132) one-time payment, so the cost of burning electricity is more or less equal to the cost of burning coal.
Residents also get subsidy to buy electricity heaters. For heaters less than 1,800 yuan ($265), the municipal and district governments cover two thirds of the actual cost and for heaters priced 1,800 yuan or above, the governments pay 1,200 yuan ($176).
The Beijing Municipal Environmental Protection Bureau said the coal-to-electricity project for downtown residents has significantly reduced such pollutants as sulfur dioxide and carbon monoxide, and played a positive role in improving air quality.
Air quality improvement is demonstrated by data collected by monitoring stations located in downtown hutong neighborhoods. For instance, in the winter of 2000, the average sulfur dioxide and carbon monoxide concentrations recorded by Dongsi Monitoring Station were 195 micrograms per cubic meter and 6.8 milligrams per cubic meter respectively, 30 percent and 70 percent higher than the average of Beijing urban area during the same period.