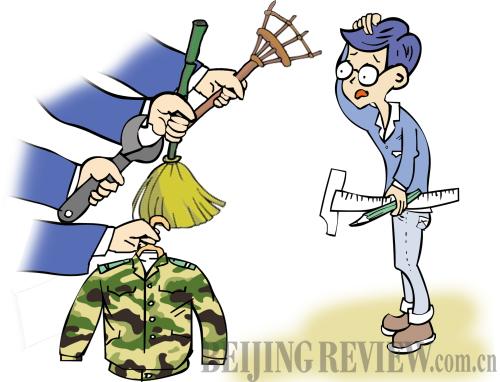 (LI SHIGONG)
Recently, Chongqing in southwest China announced its education authorities would organize social practice activities for local college students. These activities include paid internships, living and working with farmers, working in a factory and learning from soldiers. The program would ensure more than 700,000 students participate in no less than four months of social practice activities during their college education.
Supporters say, nowadays, college students are mostly single children born after 1990, most of whom don't know about the hardship in grain production; neither do they know the misery and pain of common people. So learning from workers, farmers and soldiers has as its intention making college students understand real conditions in China more deeply. It will connect them with society, and help them to understand themselves better.
Opponents think college students do need social practice activities of this type, but the activities shouldn't be forced upon them by administrative order. What needs to be done is tapping the students' individual potential. Besides, college education is now totally at the students' own expense. If four months out of four years is now taken away compulsorily by administrative order, there is the suspicion it is violating students' private property and time.
Quite necessary
Zhang Jinling (Qilu Evening News): People's growing up not only requires the accumulation of academic knowledge but also needs knowledge about society and life. A person who grows up solely in a family and in school will have many shortcomings. As for an adult college student, it's really important to say goodbye to campus life temporarily, absorb new social information, get to know the living situations of different groups of people, understand the current conditions of this country and, finally, start to think about the future. The role social practice activities play in a teenager's growing up and maturity can't be replaced by textbooks.
Now, society is a place with huge differences in different groups. Without experiencing these, a child who lives in a well-off family in the city can't fully understand the emotions and situations of children from the poverty-stricken countryside, not to mention children from rich or powerful families. If people don't get information outside their life circle and don't know other people's living situations, impoverished people's in particular, when they are in a key period of personality development, they are bound to have flawed minds and values. For "the affluent second generation" or "the powerful second generation," things would be the same if they didn't know there was a world in China they are not familiar with. What's more meaningful about this practice is that it has the function of social integration. What we see as social integration are the migrant workers in cities or urban tourists in the countryside. Real, large-scale communication between different social groups doesn't exist. Letting more than 700,000 college students of different family backgrounds get off campus and into society is a valuable opportunity for emotional integration.
Zhen Wen (Legal Daily): College students who have grown up in an examination-oriented education system and are well trained academically lack understanding of national conditions, which are significant for them as they go out into society and realize their dreams. Although there are regulations on social practice activities in college education, they always become mere formality because people don't pay attention to them and the regulations never fulfill their real function.
The activities of learning from workers, farmers and soldiers are intended to teach students to a greater extent about China's national conditions and increase students' abilities that can't be gained through theory and book-learning. We can say learning from workers, farmers and soldiers is quite significant and valuable for personality development and perfecting the outlook on values of college students since it connects courses on campus with society. College students are modern citizens who will have the task of constructing this country and social practice activities will make them more willing to take on social responsibilities.