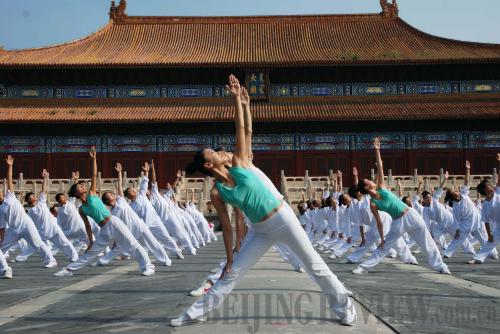 FITNESS FOR ALL: An activity to promote aerobic exercise during work breaks in Beijing is held at the Royal Ancestral Temple on August 10 (LI GANG)
China showed its formidable dominance on the gold medal tally at the 16th Asian Games on the first full day's competition after winning 19 out of 28 gold medals. However, not everyone was equally elated with China's gold rush.
The next day, a veteran sports journalist from Xinhua News Agency, Yang Ming, wrote an editorial titled Reflection on China's Absolute Dominance, revealing the irony between China's great strides in competitive sports in recent years and the general population's deteriorating physical fitness.
He wrote, "During the past 20 years China has made great achievements in competitive sports, but people's health is obviously deteriorating. Isn't it an irony and a shame?"
Using figures to prove the deterioration of the public health, Yang said official statistics show China has 160 million patients with high blood pressure, 160 million people suffering from high blood fat and a population of 200 million obese people; one out of five urban children are overweight; more than 85 percent of senior middle school students suffer from myopia; China's per-capita possession of sports facilities and percentage of population regularly exercising don't rank in the top 10 in Asia.
Yang also suggested China should send amateurs, such as college students, to compete on behalf of the country at the next Asian Games to ensure fair competition with athletes from other Asian countries and dilute the public's obsession with a gold medal haul.
Yang's article has triggered a heated online debate. Many people agree with his opinion that the gold tally can't show whether a country is strong in sports and instead of investing vast resources on nurturing elites, China should attach more significance to mass sports development.
Yang's opponents instead strongly support China's pursuit for gold medals, saying that it could motivate more people to engage in physical activities as well as boost China's national spirit.
In response to Yang's controversial article, Duan Shijie, Chef de Mission of Chinese Sports Delegation to the Asian Games and Vice Minister of China's General Administration of Sport (GAS), told Beijing Morning Post that the GAS has attached great importance to popular sports despite the fact that its investment in this field is incomparable to that in competitive sports. "But local governments invest generously in popular sports. Moreover, competitive sports can inspire the masses to exercise. For example, more kids play football during the World Cup," said Duan.
Secretary General of the Chinese Sports Delegation Cai Jiadong said "China's absolute dominance at the medal tally" is a misstatement as the country's record gold medal haul is partly attributable to the fact that there was an increase in events at the 2010 Asian Games.
Urgently needed reform
The debate has boiled down to a new round of discussion to how and when to reform China's medal-oriented sports administrative system, where limited government resources for developing sports focus on training full-time athletes promising medals at international events.
This Olympics-driven system is known as a whole-nation regime. Government-funded sports schools all over China, the most basic components of this system, hand-pick children with the best athletic potential. They then train them and promote the most talented to city teams, provincial teams and eventually national teams. These elites are expected to win as many medals as possible at the Olympics, Asian Games and other regional and international tournaments.
This regime has proved itself rather successful in achieving its goals. From winning just five gold medals at the 1988 Seoul Olympics, China climbed to the top with 51 golds at the 2008 Beijing Games. There has been a corresponding increase in its medal tally at other world and regional tourneys.