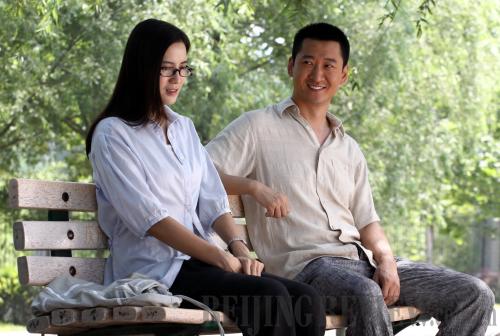 ARRANGED DATING: Jiang Dayan, the female lead in the TV series Women of Marriage Age Should Get Married, meets a young man through a matchmaker (CFP)
"Chinese men prefer women who are easily controlled by them. I think they are less interested in me, not because I am not good enough, but because they are afraid they will not be able to control me. In other words, they are afraid they will not be able to make me do as they say."
Ten years ago, Xiao left her first boyfriend, whom she had met in college, to go to Canada for further study. "But it is very hard to maintain a long-distance relationship. We tried very hard, but finally broke up. The relationship with my other boyfriend, whom I met in Canada, ended for the same reason after I came back to China," Xiao said.
"What's more, I found Chinese men had changed a lot after I came back from overseas. I feel they lack any commitment to a marriage or relationship," Xiao said, after witnessing many young unmarried girls have abortions in the hospital where she works. "The fathers of the children are mostly wealthy married men who are not loyal to their wives."
Xiao also felt great pressure from her family. "When I was in my 20s, they always found some problems with my boyfriends and were not that supportive. Now it seems that my parents just want to grab a guy off the street and have me get married to him. I don't get it."
Xiao's situation is very common. A woman surnamed Xie, who refused to give her full name, complained that her parents call her several times a week to force her to go to some matchmaking appointments. "Even on my mom's birthday, when I called home to say happy birthday to my mom, she grabbed the phone to discuss my dating situation for more than one hour and even cried on the phone," Xie said.
Xie's life is not as financially comfortable as Xiao's. Coming from central China's Henan Province, Xie stayed in Beijing after graduating from Beijing Normal University with a master's degree in 2005. She then found a stable job in a state-owned company and rents an apartment near the company. "My life is not fancy, but stable and peaceful," Xie said. "Until I realized that I have to find a man to get married."
"My parents asked all our relatives in Beijing to arrange matchmaking meetings for me," Xie said. "I met at least 30 men this way, but I don't have strong feelings for any of them."
Xie said that in her school days, she was very quiet and not much noticed by other people. She secretly liked a boy in her own class, but didn't have the courage to tell him. "Even if I had told him, I think I most probably would have been rejected since I am quite ordinary looking."
Xie admitted she used to dream about the kind of romantic love in fairy tales, but said reality is so different. "I wanted to be Snow White, but I finally realized that I am just a Cinderella who will never meet her prince."
"Everyone has their own standards and it's good to set standards. I don't think these ladies should have low standards, but they may need to change their standards for what they think they want in a partner and what they really need. I suggest such women sit down and seriously analyze what makes them happy in a relationship," said Zhu Li, a specialist in relationships and marriage, as well as CEO of www.juedui100.com, one of the biggest matchmaking websites in China.
Some people also say that women intent on finding men who are older than them should widen their age scope to include some younger men. "It is not easy," Xiao said. "I have a Chinese friend in Canada who is the same age as me. She used to see a man, also Chinese, who is six years younger than she is. But they got a lot of pressure from both of their families and finally broke up."
"I've heard some happy marriage stories between an elder woman and a younger man, actually one of my female friends married a man seven years younger than her and they seem to be very happy," said Xie, "I just don't think this kind of story will happen to me."
"I can't accept a woman who is older than me," said Liu Yan, a software engineer in Beijing, "especially when she earns more than me."
A popular talk show program on Phoenix TV discussed this topic in October. "I have a foreign friend who commented that Chinese men don't know how to appreciate the charm of mature women. They just keep their eyes on women between 18 and 25," said Dou Wentao, host of the program. "Defeated by this idea, women around 30 will have less and less confidence in themselves,"
This opinion was echoed by Gerry Jameson, a 24-year-old American man living in Beijing. "I used to date a Chinese woman who is five years older than me. We finally broke up because she couldn't trust me at all. Even when I went shopping in a supermarket she was afraid that I might hook up with another girl. She would call me and send me short messages once every minute, asking 'what are you doing?' I couldn't even have dinner with my co-workers due to the continuous calls," he said.
Jameson thought the reason was because she had no confidence. "But it is weird, since she is very beautiful and talented. I don't know why she is not confident at all."