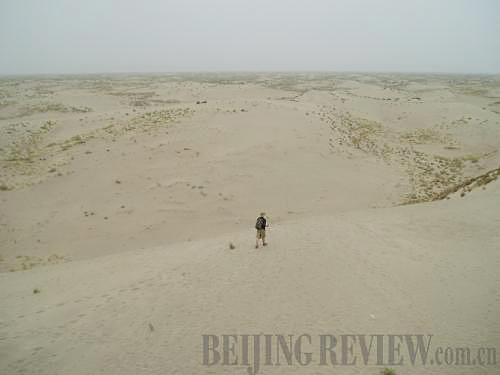 AN ENDLESS SEA: A tourist walks along the top of a sand dune in the Taklimakan Desert in Xinjiang. The desert holds endless surprises for those daring enough to traverse its sands (BRANDON TAYLOR)
I stared out at the mountains of sand in front of me—the Taklimakan Desert reaching off into the distance. A few camels yowled somewhere nearby. My guide sauntered over, his feet slipping in the unstable sand. "Ready to go?" he said. "Oh yeah," I replied. This was going to be awesome.
An overnight trip on camelback through part of the desert was going to be the highpoint of my trip to Xinjiang Uygur Autonomous Region with my girlfriend, who also acted as my interpreter. The desert was about 30 minutes from Yarkand, the nearest city, and four hours from Kashgar, where our hotel was. I'd never been to a desert before. Actually, the most sand I've ever been around has been during visits to the New Jersey shore where there's sand and sea. Here, there was just a sea of sand.
The Taklimakan Desert is one of the largest shifting sand dune deserts in the world. Trekking from east to west takes about 92 days. But a night and a day in the desert was more than enough for me.
But from the get-go, our trip turned to dust in the wind. When we arrived at the edge of the desert, we were greeted by a large group of camels and an equally large group of tourists. Soon enough, the camels were all rented and we had to wait while our guide went to a neighboring village to get two more of the humped beasts of burden.
When the camels arrived, I thought we'd be good to go, but the one camel decided to be stubborn, refusing to sit, stand and move on command. This would be my camel. An hour passed while we waited for the camel to be saddled up and put under control.
For most of the trip, my camel was still upset about something (maybe he had been sleeping and awoken from a dream of green pastures instead of dry desert) and didn't want to obey the handler, but I was just glad to be heading off into the desert as the sun started to set. That feeling of enjoyment lasted about five minutes, because after that all I wanted to do was get off the camel—the inside of my legs had started to hurt as the camel bobbed up and down crossing the sand dunes.
The trek didn't last long. The sun was going down so we needed to make camp, just 30 minutes into our journey. And at that point, we had only traveled about a quarter of a mile, since camels travel a bit slower than I'd imagined and our pair stopped every three feet to munch on something lying around on the ground. The village and farms we'd left being could still be heard, and smelled, in the distance.
The next big disappointment was the sand dunes themselves—they were covered in shrubs. A few bottles and trash were even lying around. I had pictured our two-day trek to resemble a scene from Lawrence of Arabia, but alas, it was more like riding a camel at a carnival, with a bit more sand. Our guide explained that if we wanted to see the real sand dunes, we needed to trek three days out into the desert, then three days back.
So there we were, within smelling distance of a farm and in range of a few visible lights from the main camp. There was a thick overcast, so not even the stars could be seen in the sky. The campfire we were promised was too small to cook anything with, so dinner consisted of nang (bread), bagels and a few granola bars.
To top it all off, it rained three times during the night.
The next morning, having slept on the desert floor and not wanting to spend another minute around the sand, we called it quits early. Our camels had wandered off in the night, so our guide and handler had to go find them. My legs still hurt from the day before, so I wasn't looking forward to getting back on my somewhat emotional camel.
At one point during the return trek, my camel spit up whatever it was chewing all over my girlfriend. And I'm also pretty sure my girlfriend's camel broke wind, on numerous occasions, in my general direction.
After taking the long way back, we reached the main camp, returned the camels and headed back to Kashgar.
Ultimately, the trek was a total flop. But I was glad to have taken it, because, let's face it, how many deserts can I trek around in America? Maybe next time, I'll walk alongside the camels, or take that weeklong trip to the real part of the desert. And I'll be sure to check the weather ahead of time, too.
The author is an American living in Beijing