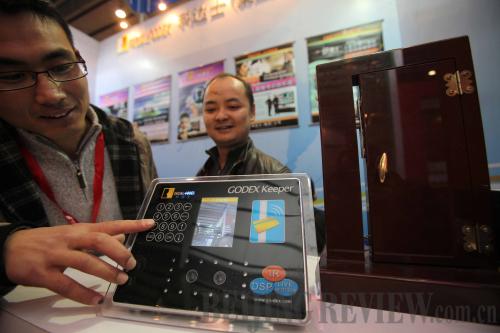 SECURITY CONCERN: Visitors are impressed by an access control system displayed at the 2010 China International Exhibition on Public Safety and Security (CFP)
Identification monitoring systems have been widely installed in Niujie Street, Xicheng District, even in 46 underground spaces. The system is connected to wireless door magnetic sensors that are triggered by activity around doors and windows, which in turn trigger surveillance cameras. The system then sends pictures and messages to residents' cellphones. Information can also be used to help police to catch criminals.
This is just one example of security applications in China. It has been 30 years since China 's security industry began to develop, covering areas such as research and development, manufacturing, marketing, systematic integration, operation of warning systems and intermediary services. Meanwhile, the function of security systems has expanded from prevention of criminal activities to positive management and behavior prediction. Significant achievements were on show in the 2010 China International Exhibition on Public Safety and Security in November. More than 800 corporations participated in the exhibition, 120 of which came from more than 20 countries.
Jin Xiufeng, Secretary General of the China Security and Protection Industry Association, said at the exhibition greater efforts will be made to encourage technological innovation and upgrade standards for security and urban emergency applications. She said more products and technology applicable to ordinary communities, families and citizens should also be developed, which could lead to a larger market for the security industry.
Huge market
Dai Lin, a postgraduate from the Department of Electronics at Tianjin University, landed his first job in a factory manufacturing security products in 1991. Now, his company has become the setter of standards for the domestic security and monitoring industry. It all began the day a client asked him if he could design a security system for a bank.
With serious security concerns, banks are the first as well as the most demanding customers for security products and systems. They began installing monitoring and alarm equipment when most people didn't know what they were. But, if security has to be guaranteed, more should be done besides. Accordingly, for many years, financial institutions, such as banks, have been following technological advancements to update their security facilities and systems. They even became testing grounds for new security technologies and products, and have produced a huge market, a veritable gold mine.
Up until now, security systems in China's financial institutions have gone through three phases: analog cameras (from the early 1980s to the late 1990s); digital hard disk video recorders (1999-2004) and Internet-based monitoring systems (2004- 2007). And now, the fourth phase is on its way, which relies on smart applications.
When Dai founded Tiandy Tech in 2000, most security products in China used analog signals for monitoring. He discovered a type of equipment that could control a camera like the human brain was technologically advanced and commercially viable. The company finally developed its proprietary products and a supporting signal digitalization technology that greatly enhanced coverage area and reaction speed of the products.
In the past 10 years, Tiandy Tech has developed 143 security and monitoring products of seven types, including network video, optical communication and access control systems. They are a leader of technology in China.
Tiandy Tech's security equipment was extensively used in the Asian Games, which concluded on November 27 in Guangzhou, Guangdong Province. In 2008, the company was the only supplier of security equipment for the Olympic Games due to its full product lines, 3G applications in particular.