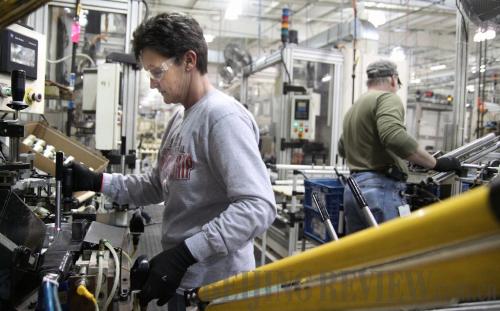 EMPLOYMENT GUARANTEED: Workers in Nexteer's Buena Vista Township division in Saginaw, Michigan work on auto parts. Nexteer's new owner, PCM, pledges to honor the recently approved five-year labor agreement with the United Auto Workers of America (FILE)
Pacific Century Motor Systems Co. Ltd. (PCM), funded by Beijing E-Town International Investment and Development Co. Ltd. and Tempo International Group Ltd., announced the acquisition of General Motors' steering division, Nexteer Automotive, on November 29. The transaction, worth an estimated $420 million, took 10 months to complete and marks the single largest Chinese investment in the global automotive supplier industry.
Nexteer is a leading provider of advanced steering and driveline systems in the United States.
The new deal stipulates that PCM is entitled to Nexteer's global steering and driveline operations, including 22 factories, six engineering facilities and 14 customer support centers. Particularly, PCM acquired more than 1,000 patents for advanced steering technology, one of the three technologies China's auto parts sector lacks most and one of the core technologies essential to China's electric vehicle development.
Domestic observers commended PCM for acquiring the core technologies at a reasonable price—the Chinese bidder spent less than half the price GM bought Nexteer for one year ago from Delphi Corp.
While Nexteer CEO Robert Remenar lauded the new owners for providing "capital and support for growth," China's banking regulator submitted a report to the State Council on one of PCM's investors' problematic loans. It warned Chinese banks of Tempo Group's 58 percent non-performing loan ratio and risky cross-stream guarantee among its affiliates.
As banks check up on their loans to Tempo Group, doubts are being cast over the prospects of a smooth integration of Nexteer's assets into PCM. Tempo Group, though a small investor in this deal, was reportedly the major driving force and negotiator for the deal.
Big deal
PCM and GM inked the agreement at Nexteer's headquarters in Saginaw, Michigan in late November, giving PCM 100 percent ownership and control over Nexteer, but leaving the management in place under the leadership of Remenar, a crucial factor that gave PCM an edge over other potential buyers.
Nexteer has 8,300 employees at 42 facilities throughout North and South America, Europe and Asia. Its top customers include GM, Ford, Toyota, Chrysler, and PSA Peugeot Citroen, as well as automakers in India and China.
Reeling from the financial crisis, the company's revenue dropped to $1.6 billion in 2009 from 2008's $2.1 billion. It is expected to reap $2 billion in revenue and $200 million in profit this year.
"With a well-capitalized owner committed to growing the business, we can focus all our resources on industry-leading engineering and product development. Our owner's relationships will open new channels to the dynamic and rapidly growing Chinese automotive market," said Remenar.
As PCM's largest shareholder, E-Town boasts registered capital of 4.4 billion yuan ($661.6 million) and has been entrusted with over $15 billion for acquisitions from various financial institutions.
E-Town, a financing and investing arm of the Beijing Municipal Government under the Beijing Economic-Technological Development Area (BDA), reportedly held a 55 percent stake in PCM. The Beijing-based auto conglomerate Tempo Group holds the other 45 percent.
Tempo Group has already expanded to cover an array of auto businesses, from parts manufacturing and whole vehicle design and production to distribution, over the past 25 years.
While pledging continued capital investment, PCM Chairman Zhao Guangyi emphasized that PCM acquired what China is in urgent need of. "I believe this deal will give a strong push to China's auto parts sector," he said.
The deal, which is expected to add over 100 new jobs in Saginaw, overtook the $100-million acquisition of the suspension and brakes business of Delphi Corp. by Beijing-based investment company Beijing West Industries Group of China (BWI) in 2009 as China's largest acquisition of a foreign auto parts company.
E-Town and Tempo Group followed the developments of Nexteer closely in recent years. In the past 10 months, they worked closely with General Motors, the United Auto Workers of America, and Nexteer management to ensure a successful transaction for the Michigan-based company.
This transaction reflected the Beijing Municipal Government's "support to joint overseas acquisitions in order to implement Beijing's development strategy of building a high-end auto industrial cluster in the city's southern part to address its auto parts supply problems," said Zhang Boxu, Director of the E-Town Development Area in south Beijing.
"The acquisition would bring world-leading technology and management expertise to China's auto parts sector," said Zhou Tiaobao, Chairman of Tempo Group and President of PCM.
The agreement for the Nexteer transaction includes establishing a new production base in the BDA, Zhang said.
But before they can turn the vision into reality, they have to maintain healthy cash flows and convince banks of their credibility.
Integration challenges
Now the new Chinese owner of Nexteer, PCM, will have to ensure smooth integration and continued growth.
In addition to keeping the management team and retaining the Saginaw headquarters, PCM will support the recently approved five-year labor agreement with the United Auto Workers of America, under the agreement.
But PCM's integration and growth targets will be a tough nut to crack if Tempo Group and its affiliates should fall apart during the upcoming credit investigation.
The investigation involves Tempo Group's 36 affiliates, in addition to its two listed companies, in Hong Kong, Beijing, Shanghai, and Liaoning, Jilin and Anhui provinces, which got loans from almost all major domestic commercial banks.
Their non-performing loans and defaulted loans totaled nearly 3.3 billion yuan ($496 million), or 58 percent of their total loans, and risky loans secured through cross-stream guarantee among them amounted to 2.56 billion yuan ($385 million), said the China Banking Regulatory Commission report.
And the 38 entities involved share a striking debt-asset ratio of 48.21 percent.
Cash flow risks have haunted Tempo Group for years. The financial crisis, in particular, dealt a heavy blow—Tempo Group's two listed companies, Hong Kong-listed Norstar Automotive Industries Inc. and Shanghai-listed Songliao Automobile Co. Ltd., respectively applied for liquidation and halted production in 2009.
As a result, E-Town acquired the 24.89 percent stake from Tempo Group and became Songliao's largest shareholder in May 2010. In August, Songliao announced its intentions to borrow 29 million yuan ($4.36 million) from E-town to maintain its daily operation. The deal paved the way for their joint bidding for Nexteer through PCM. The acquired Nexteer assets are similar to major business lines of Songliao and expected to help Songliao to resume production.