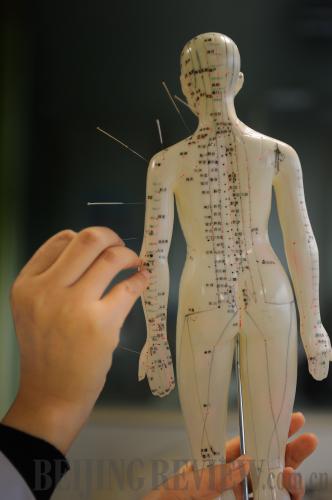 STRICT TRAINING: An acupuncturist demonstrates how to correctly find acupuncture points (CFP)
On November 16, UNESCO officially approved the inclusion of acupuncture and moxibustion, a traditional Chinese medicine therapy, on its Representative List of the Intangible Cultural Heritage of Humanity. The number of Chinese cultural items on the list now totals 28, greater than any other country in the world.
"The listing of acupuncture and moxibustion as intangible cultural heritage has confirmed China's position as the country of origin of these skills and laid a good foundation for the internationalization of traditional Chinese medicine," said Huang Jianyin, Deputy Secretary General of the World Federation of Chinese Medicine Societies. Huang has previously expressed worries about acupuncture and moxibustion declining.
Yang Jinsheng, Deputy Director of the Institute of Acupuncture and Moxibustion under China Academy of Chinese Medical Sciences, said inscribing will restore the original characteristics of acupuncture and moxibustion and contribute to sound development. "This is an effective way to protect them," he said.
Ancient and profound
Acupuncture and moxibustion are an important part of traditional Chinese medicine. The seemingly mysterious medical treatment has been widely practiced in China, especially in ancient times. These therapeutic methods date back at least 2,000 years. The acupuncture and moxibustion are based on the theory that the human body acts as a small universe connected by channels. Through physical stimulation of these channels, the human body's self-regulating function can be promoted and health achieved.
Acupuncture itself involves inserting and manipulating needles in various acupuncture points in the body to clear and connect the channels so as to relieve pain or for therapeutic purposes. Research shows acupuncture points are related to the nervous system, blood and lymph vessels as well as muscles. In the Chinese medicine, there are more than 400 acupuncture points spread all over the human body.
Acupuncture needles are usually made of silver or stainless steel. Moxibustion treats disease through warming an acupuncture point on the body surface by the burning of a combination of herbs, primarily mugwort.
Acupuncture and moxibustion are relatively easy to operate and the cost is reasonable. In most cases, no side effects occur at all during the treatment. At the same time, it can operate in unison with other treatments.
Around 300 kinds of diseases can be treated by acupuncture and moxibustion. The therapy has obvious curative effects for more than 100 diseases, such as neuritis, neuralgia, certain types of pain, headaches and disturbance in intestinal function. The efficacy of the therapy in the treatment of facial paralysis and apoplectic sequelae is most widely known.
As early as the 1980s, the World Health Organization (WHO) had confirmed acupuncture and moxibustion were very effective in the treatment of 43 diseases, including neurologic gastrointestinal system, dental and respiratory system diseases. The National Health Service of Britain has even said there is reasonably good evidence acupuncture is an effective treatment for nausea, vomiting, osteoarthritis of the knee and several types of pain.
Protection and inheritance
Though with such a long history and now applied in more than 150 countries and regions, traditional Chinese medicine is declining in China nowadays.