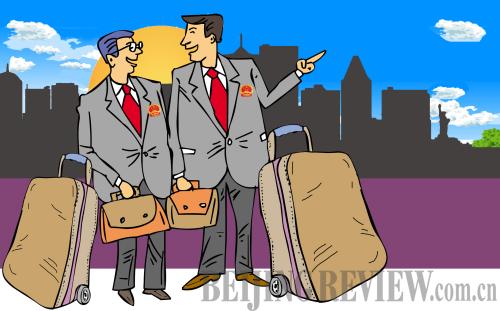 (LI SHIGONG)
On November 22, Beijing's Dongcheng District for the first time announced a 20-year official training program. The program says the district will send civil servants to perform temporary service in multinational companies, international organizations and in the governmental sectors of the United States and other developed countries. The annual budget for the temporary overseas civil service program is estimated at 50 million yuan ($7.5 million).
Dongcheng District officials said working abroad had proved to be more effective than schooling in foreign countries in boosting officials' international vision. The district in recent years has sent officials to study in countries such as Singapore, the United States and Australia, and to work in temporary positions in places such as South Korea and Hong Kong.
Supporters of this practice say they believe temporary working experience abroad is not just for show, but helpful. Experience in other countries will help these officials to improve their governance capacity and sense of competition. As a result, their working efficiency may improve.
Opponents, however, argue because of differences in governance methods, service abroad won't be similar to China. It's possible this will become just another opportunity for officials to travel abroad. Besides, if these officials only manage to pick up superficial experience unsuited to China's national conditions, what's the point of this kind of international experience?
Have a go
Xiu Yangfeng (www.rednet.cn): People are worried Dongcheng District's program to send officials abroad in temporary positions will become just another opportunity for traveling at taxpayers' expense, and it's just an additional perk for civil servants.
I think this is questionable logic. After all, Dongcheng District's intention is to broaden civil servants' international vision. Yes, there are various forms of traveling at taxpayers' expense, but it is too arbitrary to say Dongcheng District's program will also slip on to this track.
To send excellent civil servants to developed countries to learn from advanced governance experience, as well as the sense of working for the people and the culture of clean government will inspire our officials in terms of ethics and methods of governance. This can never be obtained from books.
During the process of reform and opening up, it's important for Chinese officials to have extensive personal knowledge of advanced countries to find out why they are advanced in governance. If the officials' temporary overseas service program succeeds in its goals, the annual input of 50 million yuan is worthwhile.
Liang Jiangtao (Southern Metropolis Daily): Undoubtedly, the U.S. mode of government operation does have something for us to learn from. Despite the differences in political system, against the background of a market economy, governments of different countries have a lot in common in terms of macro-governance and public management. In U.S. government departments, service, efficiency, governance and enforcement are emphasized. These are also valued by other governments.
It's not that civil servants in the United States are better than Chinese civil servants, but the United States boasts a complete set of strict assessment mechanisms that cover civil servants' recruitment, dismissal, performance assessment and ethical discipline. Learning from the U.S. experience is not to copy everything they do. Meanwhile, it doesn't help if Chinese officials learn only from books, the Internet or just have classes during short visits. Only by serving in posts in a real environment will it be possible to pick up the essence of a good mode of government operation.
He Yong (www.dahe.cn): The public does not need to worry about civil servants' temporary overseas service programs. Two measures will ensure these officials do not waste time in foreign government sectors. First, these officials should be put under the control of the relevant U.S. government departments, which means they should act in accordance with U.S. requirements for civil servants. If anyone violates U.S. regulations for its civil servants, they must be punished by their employers or China's corresponding governmental sectors accordingly and even be removed from their posts at home. Second, when officials return from the United States, they must go through tailored tests. If they fail in the tests, they won't get promoted or should be demoted.
Indeed, to send officials abroad for temporary civil service will cost a lot of money, but if officials can really learn something useful, especially advanced governance experience and the sense of service, it's more helpful than just simply receiving theoretical training in foreign universities, which doesn't save money at all.
As for whether the officials can apply what they have learned to China's development, it's not in question. For example, in the late years of the Qing Dynasty (1644-1911), a large number of officials with overseas educational backgrounds scored great achievements. Thus, differences in political systems and governance environments are not obstacles. Advanced working experience and concepts can always play a role in China's development.