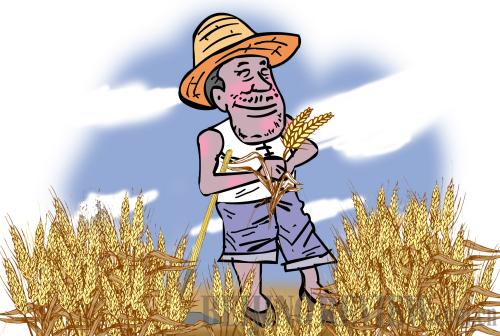 (LI SHIGONG)
Pilafs, risottos, soups, snacks, paellas, stuffing, vinegars, wines and desserts—rice is used all over the world in myriad ways as food and drink. Although rice is one of the world's most ancient foods and it is impossible to know exactly where and when cultivation of this marvelous grain began, China is popularly acknowledged as the homeland of rice.
Chinese people have many legends about rice. Some describe a benevolent goddess in silk robes whose gown accidentally picked up stray rice grains, which she dropped from the heavens to humans below. It's also said that Shennong, the Divine Farmer in Chinese myth, sowed the first rice on earth.
Archeologists have determined that rice was cultivated between 9,000 and 11,000 years ago. They think rice initially sprang up from the Himalayas to Thailand, Myanmar and South China. Chinese legend states that rice cultivation was bestowed upon the Asian people by Huangdi—the Yellow Emperor, otherwise known as the "Father of Grains." Grain—or fan—included millet, wheat and barley, in addition to rice. Most importantly, according to food scholars, in ancient times anyone who ate fan was considered Chinese; all the rest were barbarians.
Rice spread from China to India, Indonesia, Korea and Japan, and later to Europe, South America and North America. Korea received rice in the third century B.C. Six hundred years later it turned up in south Japan, where it became a cultural and agricultural mainstay for the Japanese.
During these ancient times, rice served as money. Farmers in ancient Asia often paid their taxes in rice. In Japan, where special glutinous rice was cultivated, farmers grew this crop for export, and sold it for high prices. Japanese farmers could not afford this rice, so they imported cheap rice from the Chinese mainland; the poorest ate millet instead. Much later, in the early 20th century, the Japanese spread rice to Australia, where it is now a significant crop.
Non-Asian people knew nothing about rice for thousands of years. Rice is not noted in the Bible; rice is not mentioned by ancient Egyptians. In the fourth century B.C., Alexander the Great mentioned rice for the first time, saying it came from India. Later, the Greeks paid little heed to rice. Western peoples can thank the Arab conquerors of the eighth century for bringing Chinese rice (via India) to Spain. The Spanish in turn passed rice along to Italy and France, where it eventually spread via imperialism and colonization throughout the rest of the world.
But Europeans of the Middle Ages knew very little about rice cultivation. In contrast to Chinese farmers, who were wise to sow rice and allow carp to swim in the paddies together with the grain, the Europeans simply flooded fields and planted rice. Chinese understood that carp would eat away at weeds, and swallow insect larvae, protecting crops and people. The Medieval Italians, however, did not utilize these fishy gardeners. The result was poor crops and mosquitoes—which in turn gave rise to malaria. Europeans perceived rice fields as dangerous places where disease flourished, so rice cultivation never became popular. Instead, rice imported from the Orient became a luxury item, in tandem with Chinese spices and silk.
In the 18th century, as European imperialism and colonization advanced, maritime merchant companies bought rice and brought it to the Western aristocracy. Rice consumption grew in popularity, especially after the English colonized India: They ate kari (curry) with rice and brought it to England. Dutch plantation owners in Indonesia brought back Chinese/Indonesian rice dishes, such as rijsttafel and nasi goring, making them extremely popular in the Netherlands. Likewise, German chefs became known for crushing and pulping rice, and using it to build plaster-like edible table centerpieces of great beauty and size whose presentation wowed their patrons. The rice ring and rice terrine are modern leftovers of this era.
Much more remains to be said about the glories of rice, and the voyages this remarkable grain has taken from its Chinese homeland. In Asia, rice remains supreme: Many cultures, Chinese, Korean, and Japanese, all have a traditional form of greeting: Have you eaten rice today? The Japanese, an island people who needed rice to flourish, still express their gratitude for rice via traditional ceremonies. Moreover, Westerners may not know that the best selling Japanese cars are actually related to rice. Toyota (Toyoda) translates as "rich rice field;" Honda translates as "main rice field." Without the great gift of rice from China, other Asian cultures, Indians, and even North American native Americans who cultivate wild rice may not have had adequate nutrition to thrive. In China, as elsewhere, rice equates with food and symbolizes important cultural rhythms revolving around the celebration of life itself.
The author is an American living in Beijing