Shingo Kunieda (QIU YUEWEI)
Despite his poor physical condition, Kunieda actively engaged himself in a normal school life. He participated in physical education classes and played all sports, including soccer, with other classmates.
Kunieda started to play tennis at age 11, with his able bodied friends. He rose to World No.1 in little more than half the time it takes for able-bodied tennis players to reach their peak performance.
He has two Paralympic gold medals to his name, one in the men's doubles, together with Satoshi Saida at the Athens Games in 2004, and another in the men's singles competition at the Beijing Games in 2008.
Kunieda believes his success in wheelchair tennis can inspire other disabled people and encourage them to take up the sport. "I think today many young disabled people dream to play wheelchair tennis. They see that if you are the number one wheelchair tennis player you have a nice life," he once told the press.
Jumping out of darkness
China's Li Duan won a gold medal in the men's long jump F11 with 5.96 meters in the Guangzhou Games.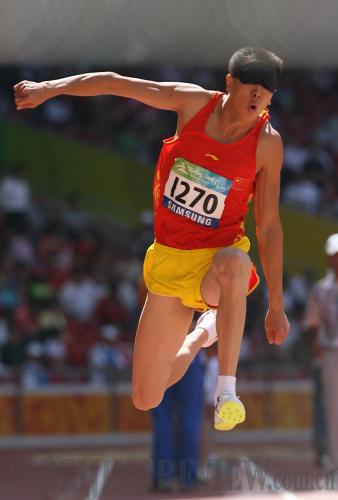 Li Duan (IC)
Li was once a forward on the national youth basketball team and was a well-known slam-dunk champion. Li dreamed of becoming China's Michael Jordan.
He started playing basketball when he was five. His mother, who was once a basketball player, pinned strong hopes on him to become a basketball star.
An accident in 1996 took away his eyesight completely and his basketball dream. The next year, he lost his father to cancer. Li, barely 20, toughened himself up to comfort his mother and younger brother.
Though life closed a door for him, it opened a new window, Li said. One year after he lost eyesight, Li started training as a long jumper at a Shenyang-based sports university.
Now, Li has lived in darkness for 14 years. His strenuous efforts over the years were rewarded by a gold medal in the 1999 FESPIC Games and several gold medals at the Paralympic Games.
At the 2008 Paralympic Games, he jumped 13.71 meters, 0.24 meter farther than a 10-year-old world record set by a Spanish athlete.
Quick Facts
- The Asian Para Games featured 19 sports: Archery, Athletics, Badminton, Boccia, Cycling, Football 5-a-side, Football 7-a-side, Goalball, Judo, Powerlifting, Rowing, Shooting, Swimming, Table Tennis, Ten Pin Bowling, Volleyball (sitting), Wheelchair Basketball, Wheelchair Fencing, Wheelchair Tennis.
- This year is the first time the Asian Para Games were held immediately after the Asian Games. The Asian Para Games stem from the Far East and South Pacific Games for the Disabled (FESPIC Games), which was created in 1975.
- China hosted the sixth FESPIC in Beijing in September 1994. The last FESPIC Games were held in November 2006 in Kuala Lumpur, Malaysia.