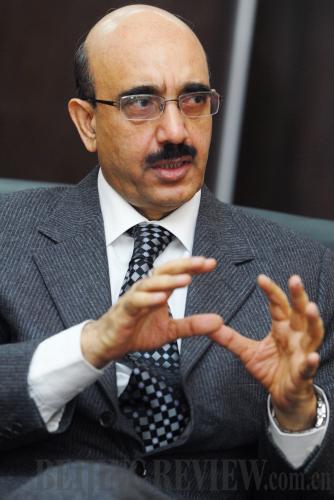 Masood Khan
Chinese Premier Wen Jiabao just completed his official visit to Pakistan at the invitation of Prime Minister Yousuf Raza Gilani. Masood Khan, Pakistan's Ambassador to China, talked on December 10—prior to Wen's visit—with Beijing Review reporter Yu Yan about the significance of Wen's visit, the foundations of the China-Pakistan partnership, Pakistan's relations with India and Pakistan's domestic situations.
Beijing Review: How do you view the importance of Chinese Premier Wen Jiabao's upcoming visit to Pakistan?
Masood Khan: There is a lot of excitement in Pakistan to receive Premier Wen Jiabao. He is a very popular leader in Pakistan, as he represents the most beloved nation for Pakistanis—China. China has always stood by us in difficult times and has supported us in our economic development. That's why we call the China-Pakistan relationship an all-weather friendship.
Premier Wen will be received by President Asif Ali Zardari and Prime Minister Yousuf Raza Gilani. He will also address a joint session of the Parliament, which will be attended by members of the upper and lower houses. He is also inaugurating a friendship center, which will be a symbol of friendship between peoples of Pakistan and China.
And the premier will be accompanied by 260 corporate leaders. They will deal with economic and trade matters. There will be subsequent talks between the two prime ministers. And Wen will also meet the leadership of Pakistan. So we have a full agenda. I think the two sides will focus on promoting peace and stability, as well as deepening economic relations between the two countries. In addition, they will foster closer people-to-people contacts and cultural ties.
Next year marks the 60th anniversary of China-Pakistan diplomatic relations. You said the two countries have developed an all-weather friendship. What do you think are the foundations of such a firm partnership? Also, what experience can you draw from the evolution of China-Pakistan relations over the decades?
The foundation is in the hearts and minds of the people. People of the two countries love each other. If you ask an ordinary Pakistani citizen on a Pakistani street, mall or market, which country is the friendliest nation toward Pakistan, they would say it's China, without hesitation. Similarly, in a survey conducted by China's Xinhua News Agency in 2008, a majority of 50,000 Internet respondents said the friendliest nation toward China is Pakistan. So it's a kind of natural feeling.
This relationship has been based on the principles of mutual respect and mutual benefits. We have both respected the principles of non-interference in each other's internal affairs, pursued peace and stability of the region and the globe, and devoted ourselves to economic cooperation and cultural harmony. And we stressed complementarities. This is why we call our relationship a unique relationship.
In addition, in the economic sectors, collaboration between the two countries has been very productive and has been especially beneficial for Pakistan. China has contributed to the Pakistani economy in a big way. Currently, there are 150 Chinese enterprises engaging in the economic development of Pakistan. And the projects completed by Chinese enterprises—including hydropower generation projects, mobile telephones and autos—have been directly benefiting the Pakistani people. They have provided jobs for the ordinary Pakistani people, strengthened Pakistani industries and opened new avenues.
In which areas will the two countries look to strengthen their ties in the coming years?
Yes. Pakistan and China have been cooperating in nuclear technology for years and it has been very productive. Pakistan is an energy deficit country. We need energy to satisfy our industrial requirements. During Premier Wen's visit, we are going to announce the creation of an energy cooperation mechanism. This means we will look at the entire spectrum and not just focus on cooperation in one field. We will look at hydropower generation, wind energy and solar energy.
Another area is agriculture. Pakistan is an agricultural country and we want to benefit from China's experience, expertise and scientific know-how in agriculture. China has made breakthroughs in, for instance, hybrid seed technology for rice, cotton and wheat.
There can be a breakthrough in financing and banking. Cooperation in this area used to be weak. But things began to change in 2008, when the China Development Bank and the Pakistani Ministry of Finance launched the Pakistan-China Joint Investment Company in Islamabad with a paid-up capital of $200 million. This is just a beginning. We want to further increase the capital to $1 billion to $2 billion. With the expansion of the business, the joint investment company will also expand. Significantly, the Industrial and Commercial Bank of China is also making preparations to open a branch in Pakistan.