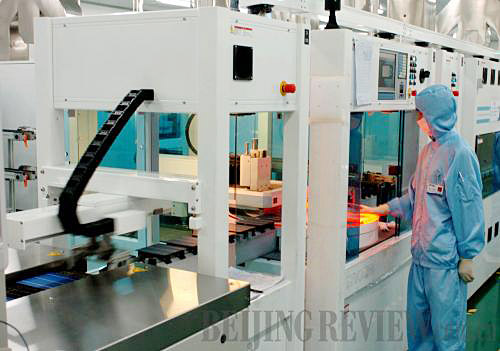 GREEN TECH: An operator at Shandong Realforce Enterprises. Co. Ltd., a private new energy company, works on a solar battery in the workshop. The company put the first 1 megawatt solar energy power station into operation in January 2010 (WU ZENGXIANG)
With November's consumer price index (CPI) growing at a staggering 5.1 percent, economic analysts are increasingly concerned about runaway inflation and excess liquidity in the Chinese market. Gu Shengzu, a member of the Standing Committee of the National People's Congress and a renowned economist, pointed out it is the disordered flow of large-scale private capital that pushes up consumer prices and adds to worries about inflation. Gu offered suggestions on how to address the problem at a seminar on financial and strategic emerging industries recently held in Beijing. Edited excerpts follow:
To tackle the problem of excess liquidity, it is extremely urgent to lead private speculative money into the investment sector. Developing strategic emerging industries will open a new investment channel for private capital and might help divert a certain amount from the virtual economy to real business operations. A major task for current macroeconomic decision-makers is to convert the "money monster" into a "money angel" which can be invested in the real economy and reduce the pressure of the consumer price surge.
In China, a large amount of private capital has, for an extended period of time, wandered outside the real economy. Administrative monopolies and industrial monopolies have created a crowding-out effect on private capital. There are less restrictions and administrative burdens on monopolized industries and it's hard for private investment to enter these sectors. Private investors have little choice but to find other channels to make their money profitable. Meanwhile, the large inflow of international speculative money and huge trade surplus force the central bank to issue more money.
However, due to the incomplete financial system, immature capital market and policy restrictions in the investment field, the investment channels for private capital are very limited. In addition, the unfavorable investment environment, inadequate incentive and high risk also make it hard for private capital to venture into the real economy.
Due to the rising costs of labor, raw materials, land, capital and resources, as well as increasing foreign exchange risks, the profitability of companies engaged in real economic production has been dragged down to a minimum level. This poor profitability makes the real economy less appealing to private capital, which is more inclined to chase after the virtual economy and its higher profit potential.
Liquidity's blind chase after financial assets, properties, agricultural products and raw materials has lead to a surge in asset prices, exacerbated market speculation and added air to the bubbles in the economy. In the past, stocks, property and coal were the big three magnets for private speculative money. But due to the integration of coal resources, the crackdown on property bubbles and the stock market slump, private capital has started flocking to agricultural products whose prices are relatively low and easily manipulated.
Back to reality
With hot money adding fuel to the fire, food prices grew 10.1 percent in October compared with the same period last year, and vegetable prices soared 31 percent. (In November, food prices grew 11.7 percent, among which, fruit prices surged 28.1 percent.) Of the 31 commercial products being monitored by the National Development and Reform Commission, the prices of about 80 percent recorded month-on-month growth. In the first 10 days of November, the average wholesale prices of 18 vegetables in 36 cities surged 62.4 percent from the same period last year. Consequently, the disordered flow of large-scale private capital has continuously pushed up people's inflation expectation thus increasing economic risks.
The government should work out a series of measures to encourage private investment in the real industry and to develop strategic emerging industries. Government intervention will help reduce excess liquidity and ease inflation pressure. The government should also strive to make financial innovations to establish risk diversification mechanisms and unconventional financing mechanisms to allow for interaction between emerging industries and financial capital.
First, a comprehensive investment and financing chain for emerging industrial development should be set up, including angel investment, venture capital and equity investment.
Angel funds should be actively encouraged and the angel fund investment mechanism must be gradually improved by way of establishing an angel investment network and information exchange platform, as well as optimizing the regional business environment, so that private capital can be transformed into reliable venture capital. Restrictions on private capital's investment in fund, financial leasing, trust and guarantee sectors should be lifted on a step-by-step basis. The channels for asset securitization of strategic emerging industries should be actively pushed forward so that private capital can have a legal way to participate in emerging industries. A venture capital fund dedicated to strategic emerging industries should be established to absorb idling private capital.
Second, an active stock market policy should be put in place. The capital market should be further expanded to provide more convenient capital flow channels for developing real economy.
The function of the main board—the Shanghai Stock Exchange and part of the Shenzhen Stock Exchange—undoubtedly, should be strengthened; that of the SME (small and medium-sized enterprises) board and the growth enterprise board, ChiNext, in Shenzhen should also be expanded. The agency share transfer system, equity exchange market and bond market should be upgraded. All those will be conducive to establishing a comprehensive and multi-faceted capital market system. A diversified bond financing mechanism should also be explored to attract private capital to invest in the bond market. A capital exit channel should be created so that private capital devoted to equity investment can reap the biggest profit possible when exiting the market.
Third, favorable fiscal and taxation policies should be granted to emerging industries that absorb more private capital.
When monitoring and controlling capital movements, the government should implement active fiscal and taxation policies to increase the profitability of private investment that is devoted to strategic and emerging industries. The government should reduce taxes and other expense burden and offer discounts for companies in the emerging industries so as to increase the return on investment of those companies. The local finance department should set up a special compensation fund to reduce investment and financing costs for emerging industries. Government procurement should be inclined to strategic emerging industries. The government should also help reduce the market risk of emerging companies by placing orders from them. The scientific achievement should be transformed into a profitable industry and be commercialized so the private capital can enjoy the high profit brought about by engaging in emerging industries.
Fourth, the government should reduce investment risks for private capital investing in emerging industries by optimizing investment services and enhancing investor right protection.
An investment service system and professional investment service institutions should be established. Comprehensive services for investment management decision-making, marketing, investment consulting and administrative approval should be perfected. The market intermediary organizations should be brought into full play. An investment information network combining policy, technology and market information should be formed to provide accurate and informative investment information. Private investors' rights should be fully protected to entice investment.