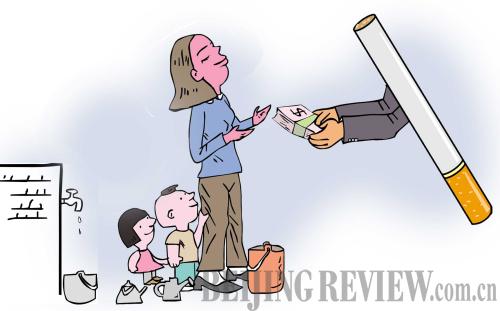 (LI SHIGONG)
On November 10, 10 million yuan ($1.5 million) was donated by the State Tobacco Monopoly Administration to the China Women's Development Foundation for setting up the Golden Leaf Fund. The fund will be directly used to support the projects, Water Cellars for Mothers and Health Express Train for Mothers, which will help improve the health of women and children, especially those in poor rural areas in the western region, and ensure their access to safe drinking water.
This donation has aroused opposition from NGOs and health organizations. They say the donation violates the Framework Convention on Tobacco Control of the World Health Organization that China joined in 2006. The 13th item of the convention specifically says tobacco advertising, promotion and sponsorships must be forbidden. Opponents say they believe the definition of tobacco sponsorships includes "donations in any form."
Jiang Huan, Deputy Director of the Office of Tobacco Control under the Chinese Center for Disease Control and Prevention, says the China Women's Development Foundation shouldn't have accepted this donation since it equates to supporting tobacco companies' marketing activities. From her point of view, tobacco companies penetrate everywhere into the society. This donation is another kind of marketing campaign to set a positive image of the tobacco industry in the hearts of common people in the poverty-stricken western area. Also, teenagers may consider tobacco good for life and try it, which will definitely damage their health.
At the same time, an online investigation conducted by the Beijing Times says 80 percent of participants agree with tobacco corporations' donation. These supporters say donation shouldn't be mixed up with tobacco advertising. The former is worth praise and encouragement while the latter should be managed and regulated by administrative means. Anyone and any industry has the right to give to charity. If we say "no" to the tobacco industry to avoid "supporting market activities," those companies may be in the embarrassing situation of "wanting to do good deeds but not being able to."
Not beneficial
Liu Haiming (Shenyang Daily): Charity is a public welfare undertaking, which should follow the principle of being benevolent. There are places and people in this world that need help. Money that helps them may be good or bad. Good money means that the source of it doesn't violate laws or other people. Bad money may be legal or illegal, but it indirectly does harm to other people.
Profit from tobacco industry belongs to the latter. It's common sense tobacco is harmful for people's health. It's suitable to tax the tobacco industry but not suitable to accept its donation to a public welfare undertaking. It's not public welfare undertaking doesn't need financial support—but once it accepts donations from industries such as the tobacco industry, it will help tobacco companies advertise in a sort of disguised way.
Zhang Tianwei (Beijing Youth Daily): The harm that tobacco does to public health has been fully proved by science and has been widely known by the public around the world. The intention of such donations, if you consider it with the greatest kindness, is no better than a signal to tell people that the tobacco companies not only care about profits but also care about children and mothers. Tobacco companies try hard to rescue their negative image through donations. But their efforts to change their image are what the Framework Convention and governments try to restrain, as any move of the tobacco industry to forge a positive image will bring about potential negative influence on the public, children in particular.
From the cowboy image of a famous U.S. tobacco brand, to the tobacco industry's enthusiastic sponsorship of sports events, tobacco companies are just trying to connect tobacco with health in different ways. It's more dangerously misleading to build a connection between tobacco and the health of children and women. The harm of this wrong doing far outweighs the little benefit it is bringing to children and mothers right now.
It's not that tobacco companies can't do any good deeds. If they don't feel at ease, it's OK for them to donate part of their profits to public welfare undertakings. But the donations must be given quietly and anonymously without any publicity activities in any form. Otherwise such donations equate to disregard for the law.
Shen Dongpo (www.bh.gov.cn/bhxw): There should be certain restrictions on donations. For public welfare programs, we should care about not only where the money goes but also where the money comes from. In simple words, the value of public welfare undertakings is embodied in helping the poor and setting social guidance and a righteous outlook on public values.