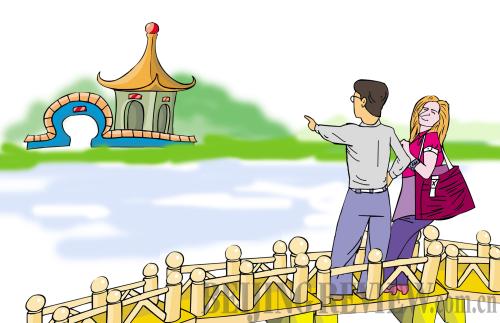 (LI SHIGONG)
"Globalization is on everyone's lips these days, but did you know that China has been a major proponent of globalization for centuries?" Teacher Yang asked me.
"Well, I knew that during the Yuan Dynasty (1206-1368), Chinese merchants started exploring and trading as far as Baghdad. I read that the modern Dutch blue delft porcelain actually had its origins in Chinese porcelain, and that the blue color was carried by Silk Road merchants from Iraq to China," I answered, trying to sound erudite.
"I was thinking about the 18th century. This time period is renowned in Europe as the Renaissance, yet few foreigners know that China had significant impact on the European thinkers. A major Chinese idea was literally transplanted to the English," Teacher Yang said.
"Please explain," I urged my old friend.
"Transplanted because this idea came through the concept of gardens," Teacher Yang began. "During the early part of the 18th century, landscaping fashions in England changed dramatically, going from formal to informal designs. The long held conformity to classical art and geometrical design gave way to a passionate association with nature. This idea was alien to Europeans: It came from China."
"I think I heard about this. The French called English gardens 'jardin anglo-chinois,'" I said.
"That's correct," Teacher Yang answered. "Yet the English initially denied any debt to the Chinese. Before this idea entered, typical English gardens had open grass lawns, winding streams, carefully calculated groves of trees and ornamental structures in the Palladian style. They imitated European fashions that derived from Italian and ancient Roman designs. This axial formalism—a kind of mathematically determined world order that carried though in horticulture, meant that flowers were arranged in squares and rectangles, trees and bushes were pruned into specific animal, human and geometrical shapes, and trees were lined up like soldiers in formation."
"How very Cartesian and dull!" I exclaimed.
"Indeed," replied Yang dryly. "All that changed with the craze for chinoiserie that took place in the 17th and 18th centuries. At that time, English intellectuals, such as Sir William Chambers, wrote books about how the Chinese excelled at gardening. He actually said that the Chinese 'take nature as their pattern, and their aim is to imitate all her beautiful irregularities.'"
"So the English started imitating the Chinese regarding gardening styles?" I asked.
"Correct," answered Yang. "Although some English intellectuals, such as Hugh Walpole, tried to assert that the revolution in landscaping came from rich aristocrats traveling around on their 'Grand Tours'—seeing nature in all her delights, or that the ancient English kings' medieval deer parks were the true forerunners of this new design. But significantly, in 1685, Sir William Temple brought a new word into the English language: sharawadgi."
"Which means?" I queried him.
"To Walpole, it meant a terrible lack of discipline and imagination run amok, but to Temple it implied a long needed freedom from geometrical and rigid garden design. Temple wanted to move away from symmetries and uniformities."
"Modern design today follows Temple," I said. "Asymmetry functions to catch the eye and stimulate beauty."
"I must remind you that the very word 'asymmetry' in the 18th century was a derogatory term," Yang replied. "Fortunately, Temple was joined in the debate by other leading literary lights, such as Joseph Addison and Alexander Pope."
"Wow, so we're talking about more than just the way gardens were laid out?" I said.
"Correct," replied Teacher Yang. "Chinese designs did not have any connection with European antiquity, but they did have influence on the creative new ways that the English perceived classical philosophers, and this, in turn, impacted the way the English thought about man's role on Earth."
"Chinese things, especially ceramics, were popular during this era," I commented.
"Yes," replied Yang, "Landscape motifs decorated some porcelain, further stimulating the Europeans. Jesuit missionaries also brought information about the Chinese gardens, further impacting ideas about irregular beauty being a combination of formal with natural. Asymmetrical beauty can create unexpected drama and delight; Alexander Pope acknowledged this in his poetry."
"Axial formalism reflected man's stern attitudes toward nature," I confirmed.
"Via Chinese asymmetry that challenged these pre-determined patterns, the English could enter a new understanding of the relationship between man and nature. Irregular beauty also implies a very different conceptualization of freedom. Indirectly, this impacted political thought," replied Teacher Yang. "Regarding government, English intellectuals could perceive the wisdom of not exercising too much formal government. Rather than ordering and combating man or nature, Chinese horticultural concepts offered the English a gift: the profound (Chinese) sense of man's moral potential, which is rooted in his organic relationships to the living world."
"Chinese aesthetics and ethics are deeply rooted in ancient traditions," I replied.
"Chinese people have different ways of understanding the universe; garden design transplanted some seedling concepts to the Europeans," Teacher Yang said, smiling shyly.
The author is an American living in Beijing