HARVESTING FLEET: Harvesting machines reap wheat in Zhenping County, Henan Province. In 2009, the province reported grain output of 53.9 million tons, the sixth consecutive year for a surplus harvest (XINHUA)
In recent years, conditions in rural areas and the rural economy have been greatly refined. According to statistics from the Ministry of Human Resources and Social Security, by the end of September 2010, some 67.19 million rural residents had participated in the new-type rural endowment insurance experimental program. Of total participants, 18.28 million received pensions, with 11.8 billion yuan ($1.78 billion) in basic pensions provided.
The number of participants in the new rural cooperative medicare system has been increasing. According to statistics from the Ministry of Health, by the end of June 2010, the number of participants had reached 833 million. Some regions are also exploring measures to improve the rural medical service environment, such as establishing the basic medicine supply system, improving facilities in grass-roots medical institutions and enhancing the professional level of medical personnel.
More importantly, farmers' incomes have increased markedly. Statistics from the Ministry of Agriculture show that in 2010 the per-capita net income of Chinese farmers surpassed 5,800 yuan ($874.81), an increase of 10 percent year on year.
Despite the continuous growth in farmers' incomes, the increasing gap between China's urban and rural residents has remained unchanged. From 2004 to 2009, the per-capita disposable income of urban residents increased at an average annual rate of 9.7 percent, 2 percentage points higher than the increase of farmers' income. During this period, the income gap between urban and rural residents increased from 3.21:1 to 3.33:1. Even in rural areas, the income gap between different households and different regions is unusually large. In 2009, the per-capita net income of farmers in Shanghai was 4.2 times that of farmers in northwest China's Gansu Province.
"The government must adopt more effective measures to increase farmers' incomes and curb the expanding income gap between urban and rural residents," said Song.
Pressing issues
Grain security has long sat atop China's list of priorities. Although China has achieved seven consecutive bumper harvests, it has become increasingly difficult for the country to maintain the structural balance between supply and demand when it comes to agricultural produce.
China's output of wheat and rice is barely at a self-sufficient level, while the country's output of soybean and corn cannot satisfy domestic demand. In the first 11 months of 2010, China imported 1.56 million tons of corn and 49.4 million tons of soybeans.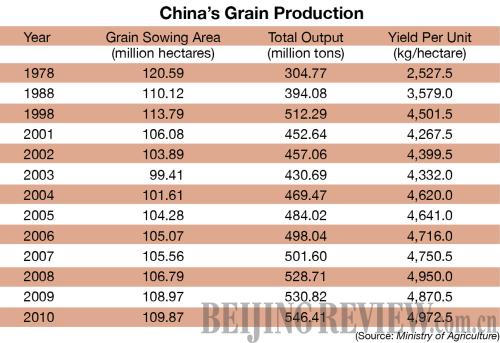 The Information Office of the Ministry of Agriculture said the core grain problem for the foreseeable future will be ensuring supplies, and the government needs to adopt various policies to achieve a comprehensive balance by addressing the current problem.
Also, in recent years, grain production costs have been increasing. From 2007 to 2009, the prices of rice, wheat and corn increased at an average annual rate of 7.1 percent, while the production costs increased at an average annual rate of 11.7 percent. In 2009, only 29.1 percent of Chinese farmers' incomes came from farming, due to the fact that many farmers had left their land to seek jobs in cities.