Competition among agricultural producers on the international market also puts pressure on China's agricultural development. Although China has accelerated its steps of opening up, its agricultural sector remains less competitive in the global market.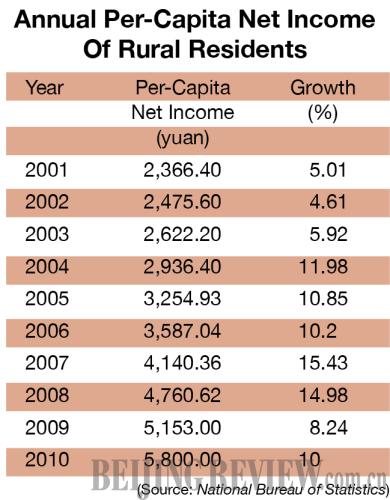 Currently, China is the world's third largest farm produce trading nation. Its trade volume of farm produce increased from $56.38 billion in 2005 to $92.33 billion in 2009, increasing by 63.8 percent with an average annual growth rate of 13.2 percent. As for the trade structure, in 2004, China had $4.6 billion worth of trade deficits in farm produce, and in 2008, the deficits in farm produce increased to $18.16 billion.
Another serious concern is the access of farm produce from abroad, especially those selling at lower prices. This may impact China's farm produce market by reducing Chinese farmers' enthusiasm to grow farm crops. From 2005 to 2007, China was confronted with this situation. Because of the low price of imported soybean, prices in northeast China, the country's major soybean-producing area, were lower than production costs, which seriously dampened local farmers' willingness to plant soybeans. Later, because of the reduction of domestic soybean output, China had to import soybeans from abroad—and this vicious circle has yet to be corrected.
Major Tasks for 2011
1. Substantially increase financial support to the agricultural sector, the countryside and farmers.
2. Focus on agricultural production and ensure the effective supply of major agricultural products.
3. Energetically improve the circulation and market regulation of farm produce, try to keep the prices of farm produce at a reasonable level, smooth the circulation channels for farm produce and accelerate the establishment of farm produce marketing networks with low circulation costs and high operation efficiency.
4. Strengthen agriculture-related technology development and equipment construction and provide a strong basis to support agricultural development.
5. Concentrate on ensuring and improving rural livelihoods.
6. Further advance rural reform and revitalize rural development.