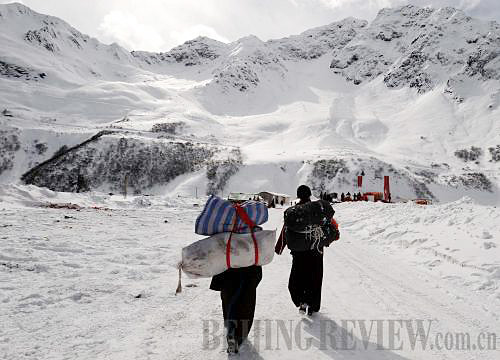 EASIER ACCESS: Two Tibetan carriers, for the first time, travel to Metok via the newly opened Galongla Tunnel (XINHUA)
Construction workers successfully blasted through the last section of mountain leading to Metok County, Tibet, on December 15. The explosion ended an era of isolation for the region.
The 3,310-meter-long Galongla Tunnel, built at an altitude of 3,750 meters, is a crucial part of the Metok Highway, said Weng Mengyong, Vice Minister of Transport. The "extremely complex" geological and meteorological conditions made highway construction work arduous and difficult, said Weng.
Shorter and safer
Metok with a population of 11, 000 is China's last county with no highway link. Bad weather, like snow and rain, make the narrow paths to the county impassable for nine months of the year, and it takes more than 10 hours to get out of the mountains on foot.
The Galongla Tunnel is the key sector of the project. Once completed, it will cut 24 km from the original rugged mountain road. The 117-km highway, linking Metok and Bome counties, will shorten the travel time by half an hour.
"It was a life-threatening adventure every time I climbed through the mountains of Metok," said Zhou Haitao, a government official who worked in Metok for five years. Zhou made a rough calculation that he had walked more than 2,000 km around the county during his service.
The future highway will no doubt benefit the transportation of the local people. "I can finally join my family during Spring Festival holidays," said Fang Hong, a Metok-born member of the Menba ethnic group who works in another nearby county.
Fang said his family would be so worried about his safety that they always suggested Fang not return home during Spring Festival for fear of avalanches when traveling alongside the risky mountain paths. With the tunnel and the new highway, Fang said he and his family will no longer worry.
But Fang still has a year to wait before the route is completed as a 90-km section of the highway, from the tunnel to the Metok County seat, has yet to be built.
The tough job
Metok County, in Nyingchi Prefecture of the Tibet Autonomous Region, has the nickname "plateau island."
The 3,400-square-km county enjoys vertical climatic phenomenon with an environment that changes from icy mountain slopes to tropical rainforests, which brings a basic agriculture economy to the region. But poor transportation conditions make it difficult to get agricultural products out of the county.