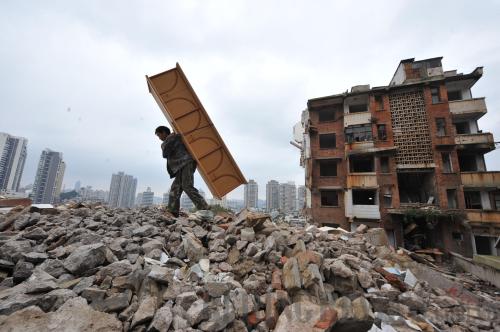 SAY GOODBYE!: A resident moves furniture out of his demolished home in Guiyang, southwest China's Guizhou Province, on October 28, 2010 (IC)
Once dubbed "the most defiant house" in Beijing, a 283-square-meter house on Lincui Road outside the North Fifth Ring Road in Haidian District was finally demolished on December 18, 2010, nearly five years after demolition of the area's houses began.
Beijing Times said the homeowner, Xu Jingming, disagreed on the 1.8-million-yuan ($263,543) compensation for his house offered by the developer and asked for 5.8 million yuan ($849,195) instead. But he finally gave up his 4-year-long bargaining battle on December 17, 2010.
With rapid urbanization in recent years, housing demolition and relocation has become common in urban areas and conflicts deriving from such actions have also become more frequent.
"Under such situations, new regulations that protect homeowners' rights and interests are urgently needed. I hope the State Council Legislative Affairs Office can be prudent and efficient in formulating new regulations in this respect," said Jiang Ming'an, Director of the Research Center of Constitutional and Administrative Law at Peking University.
A hard nut
After 10 months of discussions and revisions, the State Council, China's cabinet, published the second version of the much-discussed draft regulations on expropriation of homes on state-owned land and compensation in the last month of 2010, and asked the public to give feedback before December 30.
In January of last year, the State Council Legislative Affairs Office published a draft amendment to the controversial Regulations on Administration of the Housing Demolition and Relocation in Cities for public response. Drafters received 65,601 responses from January 29 to March 3.
Many expected the new regulations to take effect soon afterward, but little progress had been reported until the second draft came out.
According to the revised draft, which experts said enhances legal procedures, local governments will not be allowed to use their administrative power to forcibly demolish properties. Instead, they must turn to courts to make decisions after taking into account residents' and developers' concerns.
The draft also prohibits any organization or individual from using violence, threats or other illegal acts, such as cutting off water, electricity and transport access, to force relocations.
"It's the first time the State Council Legislative Affairs Office has published a second draft of regulations for a second round of soliciting public feedback," said Shen Kui, a professor at the Law School of Peking University. "It shows the government's caution in making such new rules and its determination to curb the violation of people's rights amid a recent string of violent relocation cases."
Shen is one of five Peking University professors who suggested the existing urban housing demolition regulations be revised, after Sichuan Province native, Tang Fuzhen, died following self-immolation in protest against the forced demolition of her home in November 2009.
According to current regulations, which took effect in 2001, the government has the right to seize houses and land if they are needed for public projects. The regulations also stipulate residents must move out once the government issues a relocation permit, with a maximum period of a year and half for residents to relocate and negotiate compensation.
Wang Xixin, a law professor at Peking University, said the current regulations contradict the spirit of the Constitution and the Property Law.
Jiang, also one of the five professors advocating reforms, said resistance from local governments, whose finances rely heavily on land transfer revenues, impeded the reform process.
"We understand local governments' opposition, as it places more stringent conditions on housing demolitions," Jiang said.
Data released by the Ministry of Land and Resources in February 2010 showed the 2009 income from land transfers nationwide was 1.59 trillion yuan ($232.8 billion), up 63.4 percent from the previous year.
Just during the drafting of the new regulations, several malignant incidents caused by forced demolitions happened in 2010.
On September 10, three people set themselves on fire in Yihuang County in central China's Jiangxi Province to protest the local government forcing them to abandon their home allegedly for building a bus station.