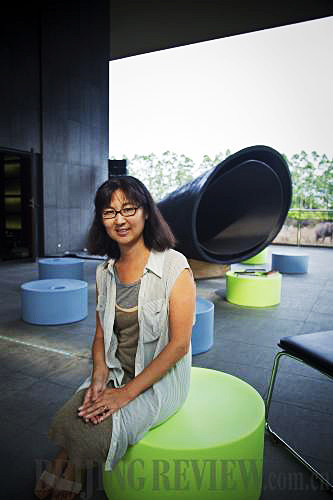 Maya Lin (COURTESY OF LI KA SHING FOUNDATION)
Chinese-American architect Maya Lin has become renowned by people in China recently because of her latest work—"What is Missing?" The multi-site project aims to raise public awareness of the current crisis surrounding biodiversity and habitat loss.
Lin recently talked about the project's background and her understanding of the relation between architecture and nature with Beijing Review.
Beijing Review: What inspired you to create "What is Missing?"
Maya Lin: I hope people will take a closer look at nature through my artwork. What is Missing? is a science-based project that makes people aware what we are losing nature and teaches people what we can do to help. Its purpose is to create media and sound works that can be seen in different venues.
The "Listen to the Earth Cone" is inspired by a megaphone that will hear sounds of rare, endangered and extinct species. People will also hear sounds of places—the threatened habitats that these species need to survive.
Why do you describe the work as your last memorial?
Memorials for me have never been about the past alone. They are also about what we can learn from history and the past, and maybe teach us a better way for the future. I conceived of the What is Missing? project as my fifth and last memorial as I have always known that my last memorial would be dedicated to the things that I have cared about since I was a kid—the environment. What is Missing? is a multi-site project that will keep going on, and I will be working on it for the rest of my life.
What do you hope to say through this work?
What is Missing? is meant to create—through science-based artworks—an awareness about the current crisis surrounding the present sixth mass extinction of species, focusing attention on the causes of extinction and connecting this loss of species to its primary causes of habitat degradation and loss. The project is both a wake-up call and a call to action—by creating innovative artworks that utilize sound, media and science to connect people to both species and places that have disappeared or will most likely disappear if we do not act to protect them.
In your view, what is the relationship between architecture and nature?
In the United States, almost 30 percent of energy consumption is in our homes and office buildings. So creating more energy-efficient buildings is critical to reducing our carbon footprint. But also in our choice of the building materials used, we can really make a great impact as well.
Could you describe your next work?
I continue to create new parts of What is Missing? The project will be continued for at least 10 years. Now we are planning to expand it by creating different media and art works in different regions all over the world. I am also working on a large-scale architecture project in Cambridge, Massachusetts, in the United States.
What architectural projects in China have you been involved in?
I am working on a bell tower and gateway for Shantou University in south China's Guangdong Province. I am very much committed to my work there. We are all talking about and thinking about how to make a walkable, car-free campus and how we can build greener buildings. I am very drawn to cultural and educational projects, and again very committed to case studies in sustainable design solutions.
Maya Lin
Born in October 1959, Maya Lin is best known as the designer of the Vietnam Veterans Memorial Wall in Washington, D.C. She is also admired by the Chinese people due to her kinship with Lin Huiyin, the first female architect in modern China and a well-known Chinese poet and artist. Lin Huiyin helped design the Chinese National Emblem, as well as the Monument to the People's Heroes in Beijing.
Maintaining a careful balance between art and architecture throughout her career, Maya Lin has created a remarkable body of work that includes large-scale site-specific installations, intimate studio artworks, architecture and memorials. Her recent works continuously present innovative ways of looking at the world. Her work investigates people's relationship to the environment, creating a systematic ordering of the land that is directly tied to history, language and time.
Her life and work were detailed in Maya Lin: A Strong Clear Vision, an Academy Award-winning documentary film in 1995. She was awarded the National Medal of Arts by U.S. President Barack Obama in 2009 for her achievements in architecture and environmental protection.