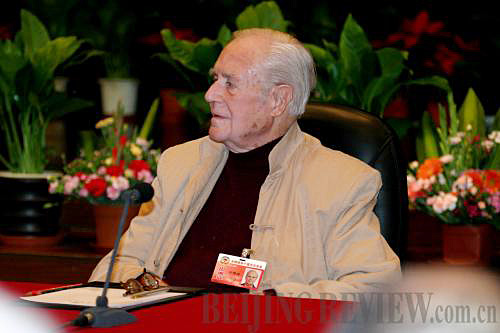 TOP CONSULTANT: Sidney Shapiro attends a meeting of the 10th National Committee of the Chinese People's Political Consultative Conference, where he serves as a member of the press and publishing group (CFP)
Sidney Shapiro, an American-born translator famous for his translation of Chinese literary works, received the Lifetime Achievement Award in Translation by the Translators Association of China on December 2, 2010.
The award is the highest honor conferred to living translators in China. First presented in 2006, the prize honors outstanding translating achievements and widespread recognition of translators' work.
Shapiro, known as Sha Boli in Chinese, was recognized for his outstanding achievements in helping people overseas learn about China. He received the award along with four other renowned Chinese translators and scholars, becoming the first laureate born outside China.
Born on December 23, 1915, Shapiro served in the U.S. army during World War II as a lawyer-turned-soldier and was opted to learn Chinese. After leaving the army, he continued studying the Chinese language, culture and history.
He first came to China in 1947. That same year he met Feng Zi, a Chinese actress-turned-writer and magazine editor in Shanghai. They married in 1948. After the People's Republic of China was founded in 1949, Shapiro devoted himself to translating Chinese literary works. In 1963, Shapiro was granted Chinese citizenship with the approval of then Premier Zhou Enlai.
Shapiro's most famous work is the translation of the Ming Dynasty (1368-1644) classical masterpiece Outlaws of the Marsh. Understanding the meaning and cultural context of the classic was difficult for Shapiro since he is not a native Chinese speaker. However, he received help from other Chinese, especially his wife, who explained to him not only linguistic meanings but the cultural situation of the era.
In addition, Shapiro translated many other famous Chinese literary works into English, such as Ba Jin's The Family, Mao Dun's The Spring Silkworms and The Shop of the Lin Family and works of Zhao Shuli.
In Shapiro's view, translation is an important way to let the world know about China.
"Translators like us have the responsibility to let the world know that China has the richest tradition of virtue," he said.
Besides translating others' works, Shapiro also wrote an autobiography, I Chose China, which vividly describes many of the dramatic changes that have occurred in China since 1949 and their impact on the world. In addition, Shapiro, who is Jewish, compiled the book Jews in Old China.
After his retirement in 1982 from the China International Publishing Group, where he had worked as an editor at China Pictorial, Shapiro became a member of the Chinese People's Political Consultative Conference (CPPCC), the country's top advisory body.
In his role as a CPPCC member, he participated in inspection tours across China almost every year to better understand social and economic conditions. As a result, Shapiro put forward dozens of proposals to improve government and better people's lives.
"Although we have no administrative power, we are very influential. We discussed matters of national importance, reflecting people's views," Shapiro said.
Shapiro has also unofficially served as a non-governmental diplomat, helping foreigners better understand China. As a result, Shapiro has sometimes been described by friends as "one of the best public relations persons China has ever had."
"People from every corner of the world come to visit me, asking questions on every conceivable topic related to China, from China's internal and international policies to everyday life," Shapiro said. "I enjoy the busy life. Every day is different—meeting guests, delivering lectures, attending conferences, receiving media interviews and writing and traveling."
Even at age 95, Shapiro replies to the many e-mails he receives every day and seems eager to continue to play a role in China's development.
"Can my miniscule presence have had even a shade of impact? I would like to think it has. Certainly the influence of the Chinese revolution on China and the world is beyond question. It has brought a better life for the Chinese people, a better chance for peace and prosperity for people in other lands. I hope, in the time that remains, to continue doing my bit," he said.