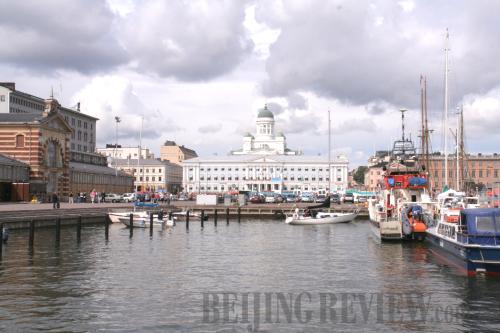 A view of Helsinki, Capital of Finland (ZHANG FENQUAN)
This year marks the 60th anniversary of the establishment of diplomatic relations between Finland and China. In September 2004, Finland was granted Approved Destination Status (ADS) by Chinese tourism authorities, which resulted in a boom for the tourism industries of both countries.
In an interview with Beijing Review reporter Chen Ran in Helsinki, Kari Halonen, Marketing Director of the Helsinki Tourist and Convention Bureau, shared his thoughts on how to make the city more accessible for Chinese visitors.
Kari Halonen
Beijing Review: What are the top three reasons for Chinese visitors to go to Helsinki?
Kari Halonen: Helsinki is like a frontier city in many ways; some of these ways are related to Eastern culture, some are related to Scandinavian culture. We have a distinctive architectural style, as well. We always have thousands of cultural events going on, no matter what time of year you are here. Finnish cuisine also demonstrates a mixture of Eastern and Western styles.
I would like to recommend the sea and archipelago, the Olympic Stadium and the atmosphere for Chinese visitors.
The city is located in a peninsula surrounded by 315 islands. Helsinki's Suomenlinna Fortress is one of the most popular destinations here, and is also part of the UNESCO heritage list.
Moreover, the city is very relaxed and safe. We are able to provide several Chinese-language tourism services, which include Chinese-speaking tour guides and several Chinese restaurants in the city's central area. The local people are very friendly and down-to-earth. They look shy and are somewhat quiet, but many of them can speak multiple languages and are happy to help foreign visitors.
What has the Helsinki Tourist and Convention Bureau been doing to promote the city in China's tourism market?
We have been doing promotions in China since 1999 and we have been satisfied with our work there. We have mainly targeted cities such as Beijing, Shanghai, Guangzhou, Hong Kong and Shenyang in the past. But there are still many areas we have not touched yet because of a lack of resources and funding. However, China has always been included in our top 15 destinations when we've been organizing our promotions.
We have mostly been concentrating on what we call "special interest programs." We have offered over 30 different types of special interest packages, some of which have included business-centric trips.
We have also been doing workshops. We attended the Shanghai World Expo, with two seminars held at the event in May 2010. One seminar was for our special interest programs; the day after the seminar, we met with travel agencies and tour operators who were interested in what we might have to offer for Chinese visitors.
At the same time, we also have a Chinese version of our website Visithelsinki.fi. We had a competition on the website which offered two travel packages for Helsinki. The competition ended at the end of October 2010; our lucky guests will arrive here in February.
We try to familiarize tour agencies and operators with our trips; we have over 2,000 tour operators come here every year from all over the world. We try to give these agencies a "big picture" of the city and help them decide what will be most suitable for their clients. We think this is an effective way to introduce the city to the world.
We have a meeting with the Chinese Ambassador to Finland once every year, discussing ways to enhance cooperation between Helsinki and China.
What are your expectations for the future of the Chinese tourism market?
We are going to continue the competitions I previously mentioned, for one thing. We will also continue our special interest programs for Chinese business groups. In addition, we will be concentrating more on ADS visa groups. These groups are made up of clients that are looking for a more leisurely trip to Helsinki. Social media outlets have allowed us to become more visible in the Chinese market; we now have greater means to introduce Helsinki to the Chinese people. We are also seeking more funding for our website.
I'm expecting an increase of around 10 percent for the Chinese tourism market next year. The current figure is about 5,000 to 6,000 overnight stays per year, on average.
The average length of stay for a Chinese visitor is currently around two nights. More Chinese tourists are staying here for long amounts of time; I'm quite pleased with this phenomenon. It is an amazing jump forward. Even though we are a relatively small city, we have been able to increase the amount of available services for Chinese visitors.
(Reporting from Helsinki, Finland)