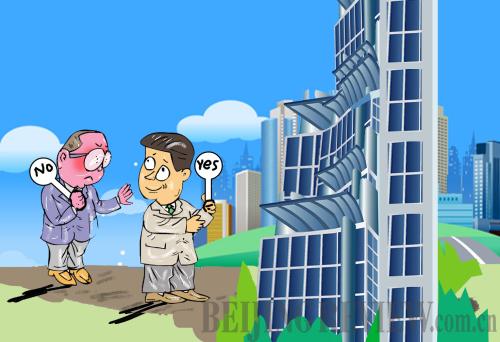 (LI SHIGONG)
Construction on the Wuhan Greenland Center began on December 8, 2010. The 606-meter-tall building, which will cost 30 billion yuan ($4.5 billion), will be the world's third highest tower, after the 800-meter Burj Khalifa in Dubai and the 632-meter Shanghai Tower, which is still under construction.
The Wuhan Greenland Center is located along the Yangtze River and covers an area of 3 million square meters. It is designed to be a high-end modern service center for commerce, finance, hotels, entertainment and luxury apartments.
Local officials have high expectations for the project. Yang Song, Deputy Secretary of the Hubei Provincial Committee of the Communist Party of China (CPC) and Secretary of the CPC Wuhan Municipal Committee, said this project is another stepping stone in the plan to develop Wuhan into one of the central cities of China. It represents the city's future, ambition and takeoff.
Although the competition of skyscraper building has never stopped in the country, the Greenland Center project is still a big surprise to many people. Most people argue that skyscrapers can save land resources and economic input, help to make a city appear modern and beautiful and promote local investment, tourism and business activities. However, 30 billion yuan is a hefty sum for most local taxpayers and many fear it will not bring as much economic success as expected. More importantly, many people wonder: If Wuhan is so rich, why don't the local authorities dedicate the money to improving local people's living conditions? Some people even believe that making the skyscraper a landmark is gaudy.
Good for local economy
Li Guozheng (National Business Daily): A building as large as the Greenland Center will make Wuhan much more attractive. Of course, the most important thing is economic benefits. Commercial property, such as office buildings, will help local employment and tax revenues. When this and more skyscrapers have been erected, land prices in the area will be very different. Nevertheless, we must admit that it's not certain.
Zeng Guo'an (www.xinhuanet.com): The construction of the Greenland Center will make Wuhan more well known and will spur its economic development to a degree. Nevertheless, the attraction of investment depends on the improvement of the overall environment, and not just on one or two shiny skyscrapers. Wuhan should seize the opportunity in this new round of development to do more tangible work to improve the overall environment.
Cheng Shidan (www.hbradio.com.cn): World economic development, particularly the rapid development of the service sector, calls for the construction of a landmark at the core of a city. There should and must be such a building to serve as a symbol in modern cities.
High buildings also have a striking advantage: they create more space for use on the same area of land. In this sense, skyscrapers are very useful for populous countries like China and many other East Asian nations. Actually, most skyscrapers are located in East Asia.
Qiao Xinsheng (China Business Times): Skyscrapers are not favored in architectural and academic circles, due to their carbon emissions and low-scale merit. More and more cities are giving up on tall buildings. However, given today's science and technology, building a skyscraper is not a big problem, either in terms of architectural techniques or safety. The cost of a building is not solely decided by its height. This is a business behavior and developers will be responsible for their own investment.
Not worthwhile
Chen Qiankun (www.xinhuanet.com): At this time, the title of "the world's third highest" does not fit into Wuhan's vocabulary or economic level. Although Wuhan's GDP is ranked 13th in the country, it still lags far behind large cities like Beijing and Shanghai. This "world's third" came very abruptly and many feel they don't need such a high building in Wuhan at all.
The risk is that the Greenland Center will push up local housing prices in Wuhan. The cost of space in the skyscraper is predicted to be above 10,000 yuan ($1,471) per square meter, but the current average price in Wuhan's property market is 7,000 yuan ($1,029). When this building is completed, overall housing prices will rise.
It's suspected that the construction of the Greenland Center is partly because the local government wants to harvest huge profits. The fact that the government has given so much support to the construction of the Greenland Center hints that investment in this building will bring clients big profits. When housing prices jump to 18,000 yuan ($2,647) or even 20,000 yuan ($2,941) per square meter, they may get big returns. As far as the local government is concerned, aside from attracting investment, land around the Greenland Center and even in the whole city can be sold at much higher prices, and that means higher taxation revenues.
Yang Guang (Chongqing Evening News): It seems that the whole world is obsessed with skyscrapers. In the Bible, the Tower of Babel represents the human desire to reach to the skies. To some extent, high buildings are symbols of a city's dignity and some residents' dreams. This might be the psychological reason why skyscraper construction has continued. Particularly since the 19th century, the architectural breakthrough of armored concrete allowed skyscrapers to mushroom around the world.
Although it joined the game late, China is catching up and even surpassing many other countries in skyscraper construction. More and more Chinese buildings are appearing on the list of the world's 10 highest buildings.
Populous Chinese cities may need some high buildings, but in most cases, this trend is due to people's passion for titles like "leader" or "champion." So many cities are competing to establish architectural landmarks, and once a city has such a record-setting landmark, the local government will automatically have something to boast of and the developers involved in the project will have something to show off when they present new projects to clients.
Human beings' admiration for skyscrapers is something to worry about. Based on appraisal statistics on various items from around the world, compared with ordinary buildings, skyscrapers require much more care in terms of maintenance, fire safety, lift facilities, wall cleaning and parking lots, while at the same time, it may be as convenient and environmentally friendly as ordinary buildings. In skyscraper office buildings, people will really get annoyed at the crowded elevators at rush hours.
If people do not think from the perspective of architecture, ecology or economics, and only focus on the glory of having a fancy skyscraper, cities may find themselves slipping into an embarrassing condition.
Wang Shi (21st Century Business Herald): Building skyscrapers is all well and good, but we must face up to the reality. The building of skyscrapers must match local economic development, or these giant buildings may become gravestones, rather than milestones.
Qiao Hanlin (Chutian Metropolis Daily): Wuhan is now home to more than 4,000 high buildings (10 stories and higher). Compared with low buildings, skyscrapers are more vulnerable to severe fire damage, because fire will burn more quickly in high buildings and evacuation and rescue work is much more difficult in high buildings. Besides, ladders, tube wells, cable wells and lifts are all vertical, chimney-like wells, and will help the spread of fire. In Wuhan, the highest aerial ladder is only 70 meters. If a building is taller than this, firefighting must depend solely on the building's internal facilities. While stairs are the major channels for evacuation, once people get choked on the way to the ground, evacuation will be very difficult.