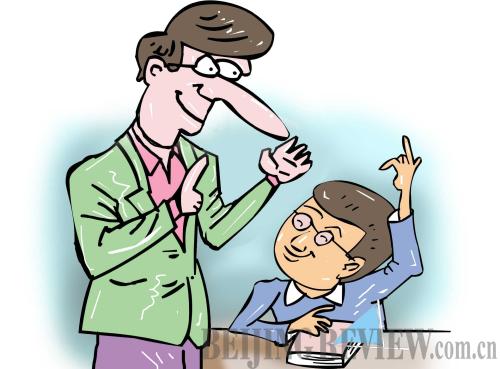 (LI SHIGONG)
Recently, I gave a class of postgraduate writing students the assignment to write an original essay on this topic: Moon Cake Mystery, Methods, and Magic. The guidelines were simple: The writers were to be creative and use their personal experiences. I was shocked to find the majority of students had simply cut-and-pasted from articles about moon cakes taken from an encyclopedia, and only two of the students revealed personal experiences they had had with moon cakes. To most students, being "creative" meant choosing an article written by someone else and being selective in which sentences and passages were "lifted." Most dismaying was the defense given, "I don't know much about moon cakes, I just like eating them!"
Today, we anxiously scrutinize examination scores and worry whether our child will be admitted into a prestigious university. Most of the time, the irritating child or student with low scores only receives negative attention. Considering the hue and cries about teaching Chinese students to be more creative, and the constant comparisons of the differences between East and West education, maybe we are futilely trying to pound square pegs into round holes.
"Creativity" is related to problem-solving ability. In China, traditional parents are very protective, and thus the young person has few opportunities to make decisions, make mistakes, and learn through experimentation to be creative and adaptive. The old adage, "necessity is the mother of invention," could mean: If your back is against the wall and you must do something all by yourself, you will then use your own mind to do something.
Four final America's Next Top Models competing for the beauty crown were given identical looking blue T-shirts, safety pins, ribbon, a pair of scissors, and instructed to re-design the shirts by creating altered wearable outfits in 10 minutes. During this short time span, each person was totally involved in the task at hand, forced in a fun-adventurous way, to tap into their vast past experiences. The judges awarded honors to the competitors demonstrating the most "creativity."
This example of beauty contestants reflects a fundamental truth: Creativity and effectiveness calls for a fully engaged mind. A car will not drive forward if the transmission is not in the right gear; a bicycle cannot pedal properly if the chain is off or away from the gear sprocket. On one hand, a creative person is like a flesh and blood computer, collecting, assembling, arranging and integrating data. On the other hand, the creative person is the attentive "student of life." People wanting to acquire a creative mentality must first and foremost be in the mind-set of fully embracing all of their learning experiences. The mind is the chain, and the variety of ideas and experiences are the gears.
As an educator in China, I find it a challenge to teach students how to think abstractly and believe that board games, such as chess, Chinese Checkers, and the ancient game of Mahjong are excellent resources that test a person's mental flexibility, risk-taking, and creativity. Such skills should not be left in the playroom or on the kitchen table. These mental necessities must also be brought into our classrooms.
The personal orientation toward achievement is an attitude. Learning and demonstrating creative decision-making is not a by-product from being conditioned to memorize "correct" answers, or retrieve exact bits of data for producing a "high" final score. Creativity is a by-product of mental risk-taking and experimentation, and one is fully engaging personal thinking in the "fun" of abstract play: mental gymnastics.
When I was a teenager, my obsession with woodcarving caused me to continue an art project, involving tedious work and patience. My father evaluated these initial efforts and told me the project was impossible, giving me a list of reasons. In the end, however, I won special award in a statewide art show for my finished project. In this instance, my internal motivation to succeed fostered the utmost use of creative methods and care. I embraced the challenge.
Why does this germ of creativity remain so deeply embedded? In schools we were made to recite: "If you do not first succeed, try, try again!" Daily these two words, "I can!" were drilled into our heads. At home, Dad's constant reminder that you must "cope with the situation" was impossible to ignore or forget.
I believe that students in China will respond to the magic of these kinds of mental motivators. When parents and teachers stop prescribing and dictating, and begin to voice their support for seeing individual brains that work, minds that are functioning with genuine originality, their children will get the message that they are valuable assets. Such treasures grow into mature, wise individuals who have been allowed to make errors and grow and begin wonderful quests toward generating new ideas as unique world citizens that China surely needs.
The writer is an American living in Jilin Province, China