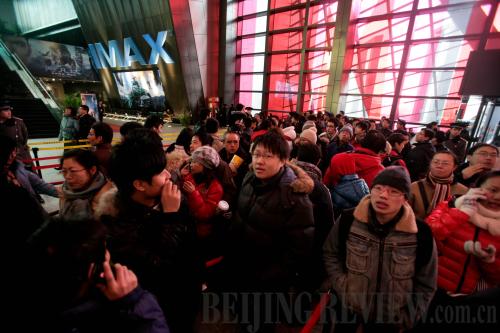 BIG HIT: People queue for tickets of Avatar in January 2010 (CFP)
China's movie box-office receipts topped the 10-billion-yuan ($1.49 billion) mark at the end of 2010, giving a much-needed boost to the country's film market that had been sluggish. Among the imported films, James Cameron's science fiction epic Avatar (in 2D, 3D and IMAX-3D) was the biggest box-office success. Since its release on January 4, 2010, it has grossed 1.38 billion yuan ($206 million) in China. Christopher Nolan's Inception, rapidly pulled in nearly 500 million yuan ($74.63 million).
Domestic films, including Feng Xiaogang's blockbuster Aftershock and Zhang Yimou's Under the Hawthorn Tree, were also big successes despite their relatively low production costs. The former brought in 670 million yuan ($100 million) and the latter exceeded 100 million yuan ($14.93 million).
In December last year, Feng and two other well-known directors—Chen Kaige and Jiang Wen—presented their newest works, helping box-office receipts to top the 10-billion-yuan ($1.49 billion) total for the year.
Market-oriented reform
In 2010, China's film distribution system also continued to transform itself.
On December 9, the Beijing-based BONA Film Group Corp. became the first Chinese film and TV company listed on the NASDAQ stock exchange. Previously, all domestic films were distributed by the state-owned China Film Group Corp. In June 2003, the State Administration of Radio, Film and Television (SARFT) granted a trial distribution license to six private companies, including BONA, breaking the state monopoly on film distribution. Since then Chinese film makers have developed a strong marketing sense and it has become common for new movies to be promoted with dynamic advertising campaigns.
The number of movie theaters has also increased. The total number of screens in China now exceeds 6,000, with almost three new 450-seat theaters being constructed every day. However, even such rapid construction can only ensure that there is one screen for every 200,000 people, far less than the ratio of one screen per 9,000 people in the United States. Obviously, a huge distribution market is yet to be tapped.
In 2005, Dalian-based Wanda Group invested heavily to build the Wanda Cinema Line Corp. Owning over 50 regular cinemas across the country, it became China's first cinema chain to have box-office sales topping 1 billion yuan ($149.25 million) in 2010. According to experts, this result shows investors' higher interest in the distribution of films.
"As more and more excellent movies are shown to the public, increasingly larger audiences will be naturally attracted to the cinema, which will in turn arouse investors' enthusiasm for the industry. This is a virtuous circle," said Li Huailiang, Dean of the Media Management School at the Communication University of China. "The Central Government has carried out new policies, which help to stimulate the domestic market at first. As close contact is established between domestic and international markets, homemade films will have growing influence and competitiveness overseas."
China's film industry has entered a stage of rapid growth, said Wang Yunping, a researcher with the National Development and Reform Commission of China. Since a structural reform was carried out in this field seven years ago, on the average, movie box-office sales have increased at an amazing annual rate of 30 percent, which is quite an unusual case in the world, he said.
"The sharp rise of the audience population has created a golden opportunity for the development of the film industry," he said.
Fiercer competition
The number of domestic feature films had reached 530 by the end of 2010; at the same time, the number of animated cartoons, documentary films and films of other genres has increased sharply over previous years. "Statistics are not the only way to measure the development of the film industry," said Zhang Hongsen, deputy director of the film bureau under SARFT. "Nevertheless, only with the increase of quantity can quality improve."
China has also agreed to further open its entertainment market, in accordance with a WTO agreement. In the past, no more than 20 foreign films were allowed to be imported into China each year. As a result, fiercer competition is expected in the film industry, along with more opportunities.
The situation of the so-called "New Year movie" demonstrates the heated competition in the film market. This new phenomenon got its start in 1997 with Feng's Dream Factory, a comedy made on a slim budget of 6 million yuan ($895,522) that ultimately grossed 36 million yuan ($5.37 million). Now there are over 50 films vying for the title of box-office champion in the 90-day-long New Year season (roughly from December to February).
Meanwhile, film making has become a new hot area of investment. The number of investment companies in this area topped 1,100 in 2010, a sharp rise from the average figure of 400 or 500 in previous years. "A greater number of investors participating in the film industry means the business is profitable," said Zhang.
However, risks exist at the same time, he said. "In any case, every year only 100 or so films can be released. What's more, just a few of them will become big box-office winners in the end."