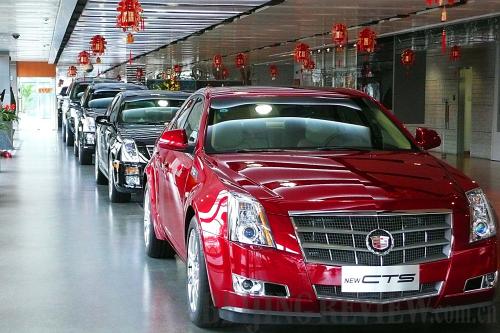 SLOW BUSINESS DAY: Cars sit idle at a dealership in Beijing. Due to restrictions placed on car license plates, auto dealerships across Beijing saw few customers in the three-day New Year holiday (CNSPHOTO)
During the last two months of 2010, the Fengyiqiao area of Beijing was a bustling hub for people looking to buy cars. Buyers lined up for hours to get their dream cars, while salespeople attending to customers had little spare time to catch their breath, let alone enjoy a quick lunch in between. But barely 24 hours into the New Year, the Fengyiqiao area fell silent, the customers gone.
The three-day New Year holiday was once a time for high auto sales when many customers chose to buy a new car as part of the festive spirit of the holiday season. In 2011, sales figures are already abysmally low, due to new restrictions on car sales adopted by the Beijing Municipal Government in the closing days of 2010.
Jia Xinguang, chief analyst of China National Automotive Industry Consulting and Developing Corp., said Beijing was not alone in low sales as the whole auto market in China appears to have already entered a bleak season. "Auto sales in 2011 will no longer be as hot as in the past two years," Jia said.
Jia's view was shared by many other analysts, who believed the growth rate of auto sales in China in 2011 would be much lower than that of 2009 and 2010, when the Chinese auto market maintained an annual growth of over 30 percent. In 2009, China even surpassed the United States to become the largest auto market in the world.
Auto.gasgoo.com, an auto market website, conducted a survey of 50 auto spare parts suppliers (30 multinational companies and 20 domestic companies), which showed six expected less than 5-percent growth in 2011, 30 expected 5-10 percent, 10 between 10-15 percent and four more than 15 percent.
Jia said Beijing's latest policy to ease traffic congestion was responsible for the dip in sales. Under the new policy, Beijing will only issue 240,000 new license plates and implement harsh traffic control measures in 2011. In 2010, auto sales in Beijing approached 800,000 units, three times more than the new 240,000 quota. Jia worried other cities might follow suit to limit license plate issuance, which would only instigate a further drop in car sales.
Another major factor affecting the auto market is the withdrawal of a series of market stimuli adopted two years ago, such as the reduction of the auto purchase tax, a subsidy to farmers buying automobiles, and an old car replacement subsidy. In the past two years, the auto market secured a net increase of more than 30 million units, equivalent to a 60-percent growth compared with that of 2008.
Analysts said the 2010 auto market boom was also triggered by the fear that the government would eventually cancel its favorable policies, which proved to be true and caused a "car rush" at the end of 2010. In addition, the inflation expectation and abundant liquidity made buying more a wise choice. As such, buyers in 2011 will be fewer and the auto market will be cooler than it was in 2010.
The Chinese auto market is also facing another turning point—the market boom brings about traffic congestion, energy shortages and environmental problems, which have triggered the government to take appropriate measures to cool down auto consumption.
The impact
The auto industry is one of China's pillar industries, so it should be no surprise that the recent policy restrictions are becoming a cause for concern.