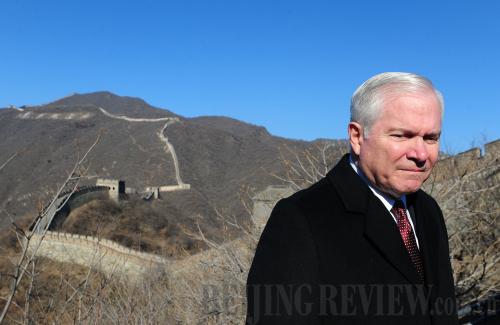 VIEW FROM THE TOP: U.S. Defense Secretary Robert Gates visits the Great Wall on the outskirts of Beijing on January 12 (IC)
"Clearly, the meetings between Secretary Gates and Defense Minister General Liang Guanglie indicate that the two sides are determined to restore high level meetings and consultations, and this is a critically important step," said Finkelstein.
Obstacles
Pang, from Renmin University of China, said Gates' visit set a positive course and provided a good opportunity for the two countries to narrow differences and increase trust.
He said it was actually normal for two major countries, such as China and the United States, to have differences. What the two countries need to do is to limit misunderstandings through dialogue.
During the visit, Gates also emphasized mutual interests of the two sides. China and the United States can work together in areas where they have mutual interests, while dealing with disagreements through discussion, he said.
Indeed, the two countries share many common interests. For instance, both are committed to maintaining world peace and stability, promoting common global development and preventing the proliferation of weapons of mass destruction. And both countries are faced with non-traditional threats, including terrorism and piracy, which are becoming increasingly severe. It is essential for the countries to deal with these challenges through extensive cooperation. Therefore, there is huge demand and room for strategic cooperation between them.
However, obstacles still exist. "Now, there are new opportunities for the two countries to further develop ties," Liang said. "But there are challenges and difficulties as well."
The Chinese military has identified many obstacles standing in the way for a smooth China-U.S. military relationship. These issues include, among other things, U.S. arms sales to Taiwan, frequent surveillance by U.S. warships and planes surrounding the Chinese territory and U.S. legislations that restrict military exchanges with China.
The United States has recently strengthened its military alliances in the Asia-Pacific region and is adjusting its military deployment. These moves have posed a concern for China as well.
American experts also acknowledged the obstacles. "There are clearly challenges that the two sides will have to overcome as they move toward establishing better military relations," said Finkelstein.
In his view, the problems can be divided into three categories: differences over the issue of Taiwan; domestic politics in both Washington and Beijing, which have prevented the military relationship from reaching its full potential; and basic systemic differences within the two military establishments that have sometimes created friction.
"The biggest challenge is the lack of mutual strategic trust," said Bonnie Glaser, a senior fellow at the Center for Strategic and International Studies in Washington, D.C.
Glaser said China is wary of U.S. intentions—and especially of the motives behind the Obama administration's "return to Asia" strategy. The United States, however, is uncertain about China's long-term intentions and sees evidence of China "behaving more assertively around the world," while developing military capabilities designed to make it costly for the United States to operate in waters near China. Against this background, it is quite difficult for a military bond to increase trust, she said.
Consensus
Despite the challenges, the two sides have reached a consensus that they ought to strengthen mutual trust and eliminate misunderstanding.
Now it is a new starting point for China-U.S. military ties, but a restoration of military exchanges does not mean all obstacles have disappeared. Instead, military exchanges should push for effective solutions to existing disputes, said Luo Yuan, Deputy Secretary General of the China Society of Military Science.
He believes the Chinese military should adhere to principles while demonstrating flexibility. China will never compromise on core issues concerning sovereignty and territorial integrity, and the United States should not cross that line. But on some other issues, the two sides can seek common ground and resolve conflicts through consultation.
The Sino-U.S. relationship is one of the most important bilateral relationships in the world, with China and the United States depending on each other, said Liang.
Building a "positive, cooperative and comprehensive" relationship between China and the United States in the 21st century is meaningful not only for the two countries but for the whole world, he added.
During the visit, Gates said the United States needed to pay attention to China's strengthening military forces, but there was no reason to view China as an enemy.
It is important that China and the United States sustain military exchanges so that their military relationship can catch up with the economic and political aspects of the Sino-U.S. relationship, Glaser said. Gates' visit will hopefully move the relationship forward, and will be followed with numerous military exchanges in the years to come.
"In the absence of a more cooperative military relationship, achieving mutual strategic trust will remain an elusive goal," she said.
(With reporting by Chen Wen in New York)