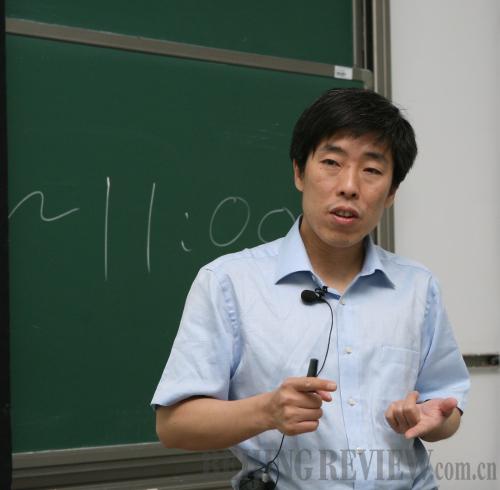 BREAKTHROUGH MAKER: Chen Tongbin discovers ciliate desert-grass, a type of ferny plant that has an exceptional ability to absorb heavy metals (FILE)
According to Liao, when considered comprehensively, treating polluted soil in place is much better. After several years, Chinese scientists have now developed three effective technologies and associated devices to accomplish this treatment.
One technology involves using a strong, specialized oxidant. Based on the degree of contamination, the oxidant is put about a dozen meters underground. The oxidant then spreads through the polluted area, reacting with the pollutants in the soil. Eventually, the oxidant and pollutant will be transformed into water and carbon dioxide, thus eliminating the pollution.
However, the treatment of the specialized strong oxidant for those volatile pollutants in the soil is not so satisfactory. In order to solve this problem, scientists also invented a means for "capturing" the poisonous gas. "If the density of the poisonous gas is not high, scientists will use active carbon to absorb it; otherwise, catalytic combustion will be employed to dispose of the gas."
Role of organisms
SPECIAL WEAPON: Ciliate desert-grass can absorb heavy metals in the soil (FILE)
Soil is also the home for many microorganisms that decompose—or "eat"—various organic substances. Many pollutants—being organic compounds—are on the menu of microorganisms. Many pollutants will be harmlessly decomposed into water and carbon dioxide through this process.
Since different microorganisms decompose different organic pollutants, one problem for researchers is to find out which microorganisms target which pollutants. After six months' research scientists selected six bacteria from thousands of microorganisms in polluted soil.
"In order to increase their ability to decompose pollutants, we should gradually increase the amount of pollutants to which the bacteria are exposed. Only by training the bacteria in this way, can common bacteria become special troops that can cope with the pollutants," said Liao.
Several years ago, Dr. Chen Tongbin of IGSNRR discovered ciliate desert-grass, a type of ferny plant that has an exceptional ability to absorb heavy metals such as arsenic. In 2000, Chinese scientists set up the world's first phytoremediation project using ciliate desert-grass to clean up arsenic-polluted land in Chenzhou, Hunan Province.
Due to its safety, low cost and effectiveness, phytoremediation of soil pollution has become a hot environmental topic. Funded by the government, Chinese scientists have overcome many technological difficulties in culturing plant tissues, breeding and growing in order to develop a series of phytoremediation technologies.
Sun Tieheng, President of Shenyang University, who is also a CAS academician, has been engaged in pollution ecology and soil science for more than 40 years. After long-term research on the types, environmental capacity and purification functions of different soils, Sun made it clear that the soil-plant system has the capacity for purifying pollutants. He then set up a project to work on implementing his findings. Based on his research, Sun proposed that bioremediation should be the principal method of soil pollution treatment in China, while physical and chemical methods should be secondary.
Experts at the Shandong Academy of Sciences (SAS) combine phytoremediation treatment and bacteria treatment to remove petroleum pollution and heavy metal pollution from the soil, thus increasing the efficiency of remediation. Through selection, the experts found that Ipomoea nil (a kind of morning glory) and Mirabilis jalapa Linn (a kind of jasmine) could not only gather cadmium but also speed the degradation of petroleum. In addition, they also identified 11 high-efficiency bacterial strains for use in breaking down petroleum products, through research in large oil fields at home and abroad. On the basis of those bacterial strains they discovered three composite microbial agents for degrading petroleum products.
"Those microbial agents will decompose petroleum into pollution-free water and carbon dioxide; meanwhile, all the microbial agents are from nature, so they are harmless," said Wang Jianing of SAS. Under natural conditions, the annual degrading rate of petroleum is 10 percent, but in this experiment, which employs microbial inoculums, the degrading rate reached as high as 53 percent, higher than any other similar technique at home or abroad, Wang said.
Years ago, experts at Nanjing Agricultural University identified a large number of microbial agents that were highly efficient at breaking down organic compounds. They set up the largest repository of bacterial strains for pesticide residue degrading in China.
"At present, the identified and collected bacterial strains total 15,000—ranking number three worldwide. The repository of nodule bacteria and bacterial strains for pesticide residue degrading are the largest in the world," said Xiao Changsong, Secretary General of Chinese Society for Microbiology.