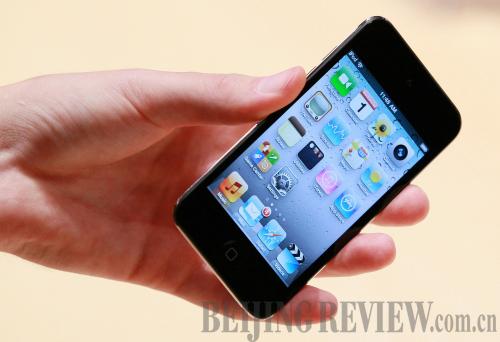 UNEXPECTED CHOICE: Apple Inc.'s popular iPod Touch player was included in the government's procurement inventory in Fushun, Liaoning Province last December, allegedly because officials were unfamiliar with this personal entertainment tool (CFP)
Netizens recently exposed several cases of alleged poor management of taxpayer money during local government procurement, generating widespread outcry and fueling the public's suspicion that loopholes in the government procurement system may be another hotbed of corruption.
A purchase plan by the Heilongjiang Provincial Public Security Department, originally put on Heilongjiang's government procurement website, was discovered and posted by a netizen on Tianya.cn on December 25, 2010.
The purchase list includes a 41,000-yuan ($6,200) computer, which triggered widespread questions about its necessity. The high-end laptop, a ThinkPad W510, is labeled as the "most powerful ThinkPad notebook ever" on manufacturer Lenovo Group's official website with features such as "ultra fast CPU, lots of memory and enhanced graphics."
Sources with the Heilongjiang Provincial Public Security Department told Heilongjiang Morning Post this expensive computer would enable its international cooperation office to log onto the information systems of the International Criminal Police Organization at anyplace, anytime and meet its needs to achieve transnational mobility during investigations.
The Shuimogou District Court in Urumqi, Xinjiang Uygur Autonomous Region, also came under public criticism when its recent bid for two luxury massage chairs was disclosed online.
The bid, valid from December 21 to 24, 2010 on Chinabidding.com, contained very specific descriptions for the chairs. Web users were quick to associate these needs with a massage chair that costs more than 50,000 yuan ($7,600).
Facing the question of why a judicial department needs two massage chairs, Wang Dong, Vice President of the court, said the chairs were supposed to be placed in the lounge of the court's building and serve retired workers and their budget was 22,000 yuan ($3,300) in total. "Netizens' attention has brought us enormous pressure. Although we have not done anything against laws or regulations during our procurement procedures, considering the current situation we will put off the purchase," Wang was quoted by Xinhua News Agency as saying.
According to a list of procured office equipment available on the government procurement website in Fushun, Liaoning Province, last December, the city's Bureau of Finance was about to purchase seven units of Apple iPod Touch with a memory capacity of 32 GB and use them as mobile storage devices. The widely popular personal entertainment gadget to listen to music, store photos and play video games costs 2,398 yuan ($363) per unit on the government procurement list, compared with prices ranging from several hundred yuan to a little over 1,000 yuan ($151.5) for not-so-fancy 32 GB USB flash drives.
"We want our data to be completely safe. We don't know much about high-quality USB flash drives and asked our suppliers, who recommended iPod Touch to us. We followed their advice," Li Guoqiang, Director of the Administrative Office of Fushun Bureau of Finance, was quoted by national broadcaster CCTV as saying.
The fact that recommendations from a digital equipment supplier alone could add expensive electronic gadgets into the government's procurement inventory reflects an inherent shortcoming of China's government procurement system, say experts on government procurement affairs. For example, finance departments are in charge of the supervision and administration of government procurements and thus don't need to seek approval for their own procurement plans.
"Right now finance departments are handling government procurement affairs. In future reforms, we may need a more credible and neutralized organization for supervising authorities," Liu Junhai, a professor at Renmin University of China, told CCTV.
Frequent irrational purchases
According to a report by CCTV, the total value of China's annual government procurement surged from 10 billion yuan ($1.5 billion) in 2002 to 70 billion yuan ($10.6 billion) in 2009.
China adopted the Government Procurement Law in June 2002 to regulate all purchases of goods, projects and services by state organs, public institutions and bodies with public fiscal funds. The law, in effect since January 1, 2003, stipulates information concerning government procurement must be published in good time in the mass media designated by the departments supervising government procurement, with the exception of those involving business secrets.
Xin Ming, a professor at the Party School of the Central Committee of the Communist Party of China, told CCTV local governments need to embark on investigations on "luxury" government procurements that netizens had lashed at as some local officials' self-defense didn't hold water. Xin said the exposure of these cases showed the increased clout of netizens' supervision of the government.
"It is not enough to rely only on the government's supervisory departments. With supervision from cyberspace, we can have an extra 100 million pairs of eyes scrutinizing corruption, which will significantly boost our supervision," said Xin.
China's government procurement consists of purchases within the centralized lists and purchases beyond the lists. The purchases within the lists, comprised regular office equipment and compiled by Central Government departments and local governments, account for the majority of the procurement budget.
"Purchases within the centralized lists are rather well regulated," said Wang Yukai, a professor at the Chinese Academy of Governance. He said purchasing items on the centralized lists usually go through several reviewing procedures and must conform to energy conservation and environment-friendly principles. More importantly, listed items are usually purchased at lower-than-market prices.