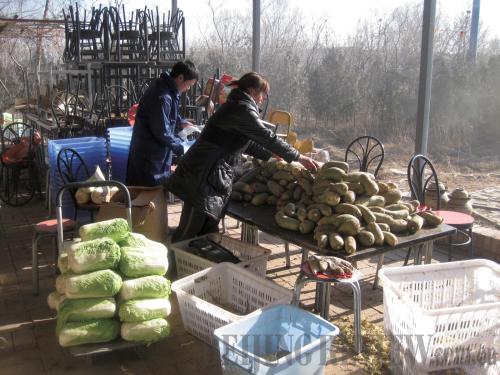 LABOR IN WINTER: Staff at the Little Donkey Farm put Chinese cabbage and radishes into boxes for delivery to buyers (COURTESY OF LITTLE DONKEY FARM)
According to Shi, CSA strengthens the bonds between urban and rural areas by distributing vegetables directly from producers to consumers. She said CSA farms are now widespread around the world. In developed countries such as the United States, Japan, and some European countries, they are very common. There are about 4,000-5,000 CSA farms in the United States and Denmark now has more than 5,000 CSA farms.
Since CSA developed as a response to food safety concerns and the urbanization of agricultural land, CSA farms have also begun to appear in such countries as India, Malaysia and China.
For example, since the foundation of the Little Donkey Farm in 2009, CSA has enjoyed a boom in China. Shi said China now has about 30 to 50 CSA farms. She said some put more emphasis on earning money, while others place greater emphasis on protecting arable land and promoting organic agriculture—the Little Donkey Farm belongs to the latter group.
Challenges in China
Despite the farm's early success, Shi knows the future will not be easy.
"The first challenge lies in protecting our arable land. After a few years' continuously improving our arable land, we don't want to lose it to urbanization," said Shi. "Another challenge lies in getting more farmers involved in our system. Under the traditional system of agricultural distribution, farmers usually deal with big corporations, which make most of the profit. Therefore, farmers must use pesticides to cut costs. We want to create innovation in the agricultural distribution system by connecting farmers directly with consumers. We won't take a profit."
"The biggest challenge, nonetheless, is educating consumers," said Shi. "Most people want to eat healthy food each day, but some don't understand that agricultural production can't satisfy all needs of human beings all the time. For instance, in nature, you can't eat potatoes in June. You can only have cucumbers in July or August. While in the winter, you may only have Chinese cabbage as your vegetable supply in Beijing. Seasons are very important to agricultural production and the needs of human beings must accord with the seasons. If not, you can only have greenhouse vegetables that rely heavily on pesticides. We should let consumers—those who don't participate in farming—be aware of this fact."
Hopes for the new year
As 2011 begins, Shi has plans to meet the challenges facing the Little Donkey Farm.
"In the new year, we hope to create a systematic way for improving the quality of our arable land. Also, we want more communications with consumers in order to help them better understand the characteristics of agricultural production," said Shi. "Finally, since more CSA farms are booming in Beijing, we hope to cooperate with them and form a network for mutual help and cooperation."
"Some of our members get 100 percent of their vegetables from our farm. Whether this will become a main source of food supply lies in the hands of consumers; so does the future of our farm," said Shi.
"Running a CSA farm is not easy in China," said Professor Wen Tiejun, Shi's doctoral advisor. "Chinese people are not accustomed to paying in advance for agricultural goods. Such a venture calls for more trust between farmers and customers."
For part-time farmer Yin, that's not a problem. "Speaking from the perspective of money, it's as if I had purchased some vegetable futures. In the spring, the price is low, while now in winter, the price is soaring. I've probably made some money on it," said Yin. "Of course, the joy of growing vegetables myself can't be measured in monetary terms. I've cured my neck problems; I've offered my family healthy organic and pesticide-free vegetables. I've enjoyed the joy of growing vegetables and have shared the joy with my family and friends."