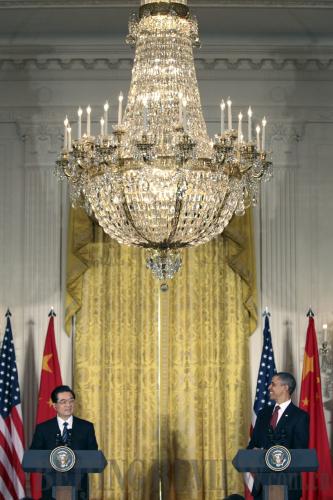 REACHING OUT: Chinese President Hu Jintao and U.S. President Barack Obama hold a joint press conference at the White House on January 19 (LAN HONGGUANG)
At a meeting with Chinese and American business leaders, Hu promised fair treatment for all U.S. companies registered in China. He said that in terms of indigenous innovation, government procurement and intellectual property protection, the Chinese Government would give them treatment equal to that received by their Chinese counterparts.
Obama said Chinese investment in the United States promoted U.S. economic growth and that exports to China have created 500,000 job opportunities in the U.S. manufacturing and agricultural sectors.
Official Chinese statistics indicate the China-U.S. trade volume reached $385.34 billion in 2010, up nearly 30 percent from the previous year. China's imports from the United States hit $102.04 billion, up 31.7 percent.
Deepening understanding
During their summit, President Hu made five proposals for the future development of China-U.S. relations (see sidebar). They address political and economic relations, global partnership, friendship between Chinese and American people and high-level exchanges.
While the joint statement put forward general principles for China-U.S. relations, the five proposals are a "roadmap" for future bilateral cooperation, the CICIR's Yuan said.
Hu also held talks with Speaker of the House of Representatives John Boehner and Senate Majority Leader Harry Reid, calling on the U.S. Congress to contribute to strengthened ties between China and the United States.
Former U.S. Secretary of State Henry Kissinger said the meeting between Hu and Obama could be "a turning point that starts a cooperative dimension in dealing with the important issues that are before us."
At a luncheon hosted by the U.S.-China Business Council and the National Committee on U.S.-China Relations in honor of the Chinese president, Hu said China and the United States should collaborate to seek solutions to problems. "We can call this summit a success, not because it has solved every problem, but because it has shown a way by which the problems can and will be solved."
The recent summit will be followed by a series of bilateral visits and events in 2011. Chen Bingde, Chief of the General Staff of the People's Liberation Army, has been invited to visit the United States in the first half of the year.
U.S. Vice President Joe Biden is also scheduled to pay a visit to China, which will be matched with a U.S. visit by Chinese Vice President Xi Jinping. Hu and Obama will meet at least once more this year, at the 2011 APEC Summit in Hawaii.
In addition, China and the United States are also planning to hold the third round of the Strategic and Economic Dialogue in Washington, D.C. in May, the second meeting of the High-Level Consultation on People-to-People Exchange in the United States in the spring of 2011 and the 22nd meeting of the China-U.S. Joint Commission on Commerce and Trade in China in the second half of the year.
Since both sides have pledged to improve relations, they are expected to take economic and diplomatic steps in the next six to 12 months, said Dean Cheng, an analyst with the Heritage Foundation.
China-U.S. relations hit a rough patch in 2010 due to a handful of sensitive issues, including U.S. arms sales to Taiwan and Obama's meeting with the Dalai Lama.
If the countries manage to improve relations, the summit between Hu and Obama would be seen as a significant turning point, Cheng said.
Doing business
Business ties between China and the United States have also been marred by recent disputes. Clashes over the renminbi's exchange rate, intellectual property protection and China's government procurement policies and rare earth export controls have complicated bilateral relations since Obama took office in early 2009.
But the spirit of cooperation has largely outweighed the disagreements, said Zhou Shijian, a senior fellow with the Center for U.S.-China Relations at Tsinghua University in Beijing.
The United States has been "the biggest overseas beneficiary" of China's development over the past three decades, he said.
China's high-quality, inexpensive consumer goods have not only helped the United States deal with inflationary pressure but have also facilitated U.S. industrial restructuring and economic growth.
At the same time, the United States has cashed in on the burgeoning Chinese market. As China pursues modernization, its demand for advanced technology will rise. Currently, China is in great need of clean energy, energy conservation, alternative energy and environmental protection technologies.
If the United States lifts its hi-tech export restrictions against China, U.S. companies would be able to receive an even larger slice of that pie, Zhou said.
During Hu's visit, China and the United States announced a raft of business deals worth $45 billion, including a $19-billion agreement under which China will purchase 200 Boeing airplanes.
Before wrapping up his U.S. trip, Hu visited an exhibition in Chicago highlighting the achievements of Chinese companies in the United States' Midwest region. The Chinese president encouraged Chinese companies operating in the United States to play a greater role in promoting business ties between the two countries.
He Weiwen, Director of the Sino-U.S. Trade Research Center at the University of International Business and Economics in Beijing, said mutual benefits are the cornerstone of China-U.S. business ties, as economic relations that benefit only one country would be not only unsustainable but also harmful to the overall bilateral relations.
International relations always come down to interpersonal relations. The United States reaffirmed its commitment to the "100,000 Strong Initiative," which is aimed at increasing the number, and diversity, of American students studying in China.
While in Chicago, President Hu visited a downtown high school, which houses a Confucius Institute that offers education programs on Chinese language and culture.
Now, more than 50 institutions in the United States are currently applying to establish Confucius Institutes.